When you're setting up an e-commerce store, it's really important to choose the right content management system (CMS) for your business. WordPress, WooCommerce, and Magento are all brilliant platforms with big benefits. Here at Nimbus we've got hosting options for all three. So, how do you choose the best CMS for you?
Online stores can vary massively – from niche boutiques to all-encompassing superstores. And while one CMS might work wonders for your business, another might be, well, not such a great fit.
To find a CMS that'll make your life easier, boost your customer experience and drive your sales, you need to understand the strengths and weaknesses of some of the major players. That's why today we're weighing up the big differences between WordPress, WooCommerce, and Magento. Ready? Let's take a look…
Why choose WordPress as your next CMS?
It's the most popular CMS on the internet – by a very long way. Today, over 455 million websites use WordPress, meaning it powers almost 40% of all the websites in the world. All those people have got to be onto something, right?
Well, part of the reason WordPress is so popular is how easy it is to work with. Originally built as a blogging platform back in 2003, it was designed to be used by anyone, not just developers. So, if you're a small business or startup, you won't necessarily have to pay a developer to get your e-commerce site off the ground. On the other hand, if you'd like an expert on the job, it'll be easy and affordable to find a real WordPress pro.
Supported services: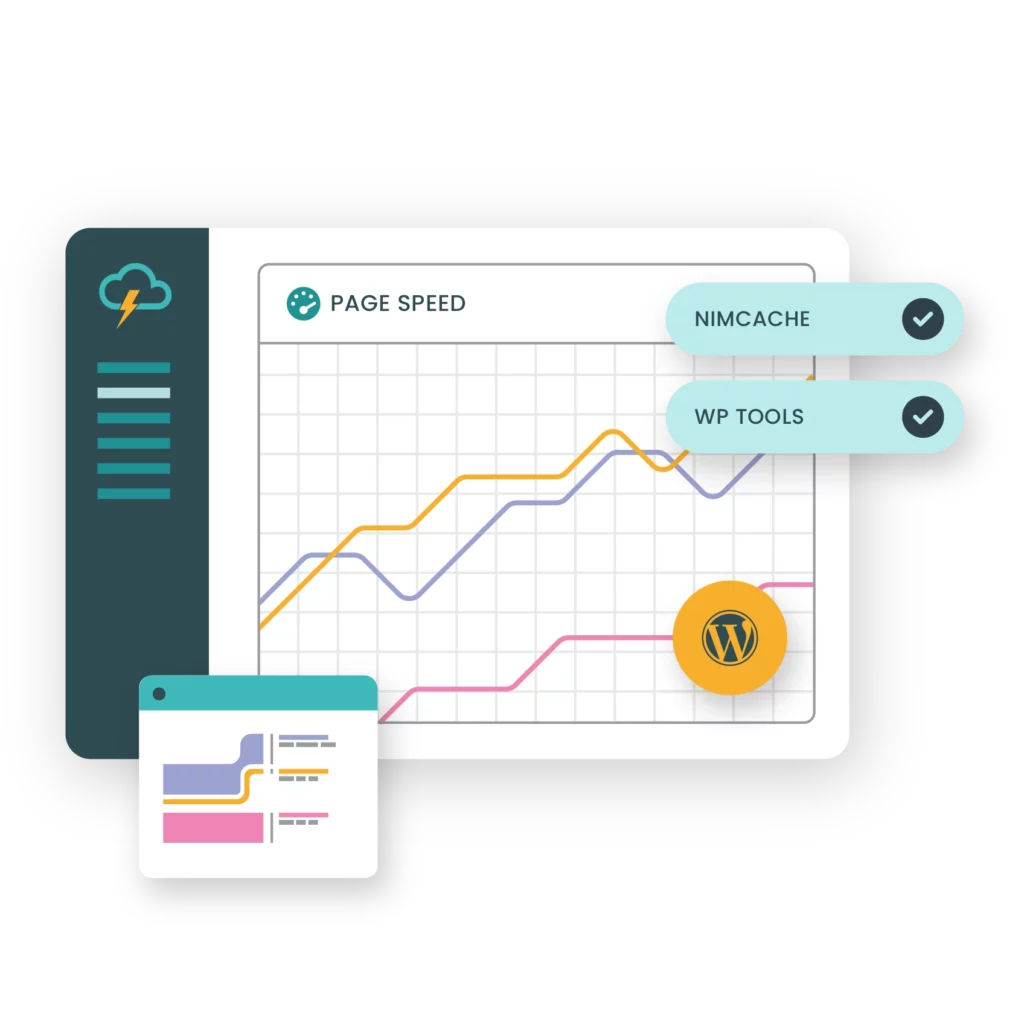 WordPress is also free to install, roll out and upgrade. As well as being perfect for blogs, it's amazing at building landing pages, SEO pages… in fact any type of website, including e-commerce.
And it's really flexible and customisable too. Just pick from over 50,000 plugins (they're often free) and put together exactly the site you need. Bingo.
Add low set-up and maintenance costs into the mix and you're looking at a pretty appealing CMS. Which is why we've made sure WordPress is really easy to use in our homegrown hosting platform. In fact, we've even built a dedicated WordPress Tools section, where you can find all the plugins, themes and recipes, for every site you've built. See every version, know what needs updating, and do it all, in just one click. Pretty handy stuff. Take a look at our WordPress Tools.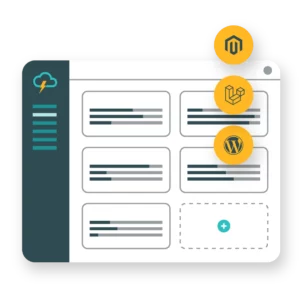 One hosting platform for your agency.
Our platform was designed with your needs in mind, which means it's easy to use, and time-saving too.
WooCommerce is a one-stop e-commerce plugin for WordPress websites, specially designed to make it super quick and easy to get your online store off the ground. So, rather than rummaging through those 50,000 WordPress plugins, you just pick WooCommerce, and away you go. You'll get all the benefits of WordPress, like its easy-to-use interface and themes, in one ready-to-roll package.
Supported services: Managed Ecommerce hosting
That makes WooCommerce a great choice for smaller businesses or startups. Especially ones who don't have a huge amount of time to dedicate to site building, and haven't got heaps of tech expertise or e-commerce experience. It'll hold your hand, skip you straight to what you need, and help you get up and running really easily.
Plus, if you're hosting with us, WooCommerce works brilliantly in our hosting platform.
The only drawback with WooCommerce? It's easy to outgrow. As your offering and your visitors' increase, it can leave you looking for more flexibility and capacity – and eventually a whole new CMS. So if you've got your sights set on super-rapid growth, it might not be the one for you. This brings us nicely into our next CMS option…
If you're hoping to go big with your e-commerce site, Magento is a great choice. It's an open-source platform that caters really well to online stores that sell a large range of products and get a high volume of visitors. So you should be able to grow and scale with it, long term.
One great benefit of Magento is that it gives you a flexible shopping cart system and a huge amount of control over the look, content, and functionality of your site. It does this through a choice of simple plugins. You can create a shopping environment – and payment process – that works for your brand, your products, and your target audience. Making the whole thing smooth and seamless.
Supported services: Managed Magento hosting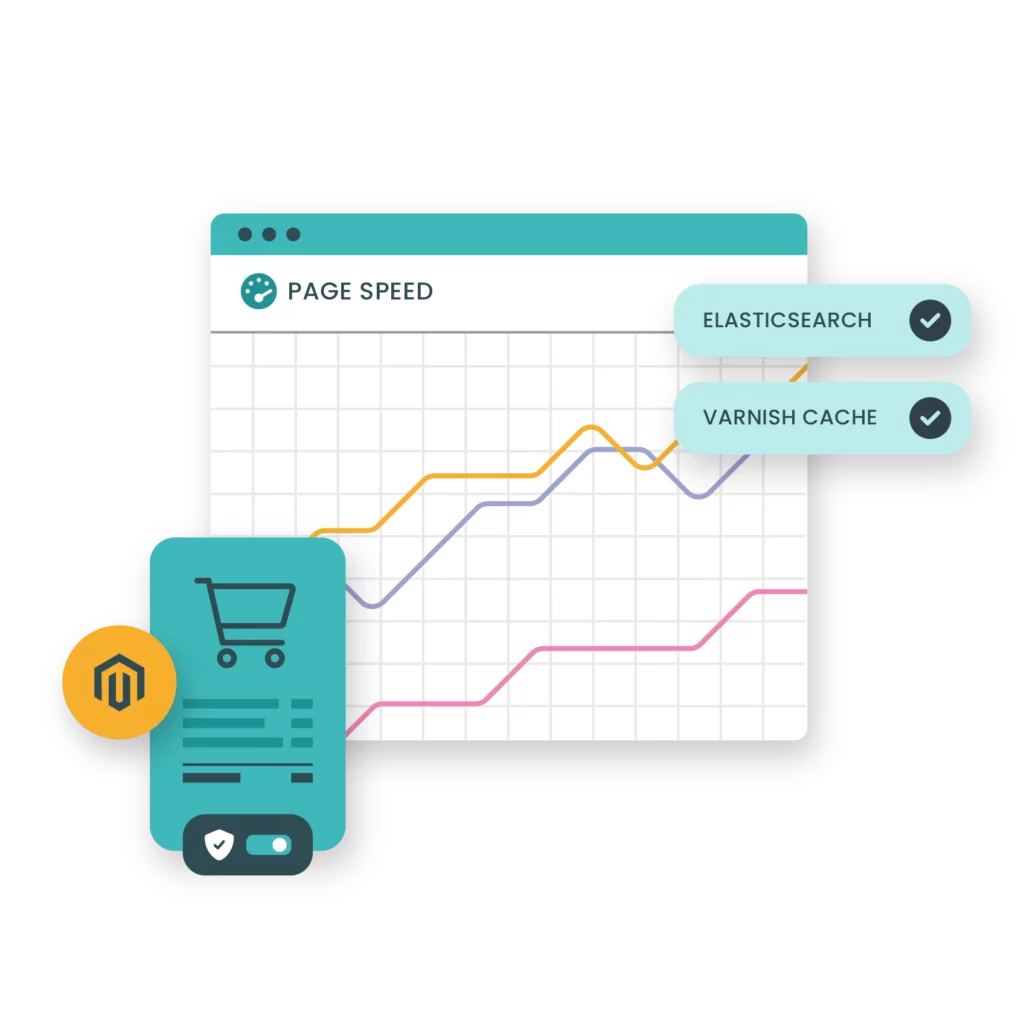 Plus, because Magento is built for scalability, it also offers powerful marketing, SEO, and catalog-management tools. Meaning you'll be able to develop your store and customer base, over time. Having these built into your CMS can be incredibly helpful, especially as your inventory expands and your business becomes more complex.
Just like with WordPress and WooCommerce, we're all set up to help you get even more out of Magento in our hosting platform. You can add Varnish Cache in just one click, serving up pages sooner and making your website up to a massive 1,000x faster.
We've also made it easy to use Elasticsearch, a game-changing search tool that helps customers navigate your store better. It dramatically boosts customer experience and drives more sales by delivering content faster. It's already compatible with our Oxygen and above servers, so you won't even need to lift a finger.
Looking for expert advice, tips and hosting know-how?
How do I choose the right CMS for me?
Think about where your business is now – and where it's heading. WordPress, WooCommerce, and Magento are all brilliant CMS options, but they work best when they fit the size and scope of your company. Just because WooCommerce is really simple, or Magento scales super smoothly, doesn't mean that's necessarily the top priority for your specific business.
If you're starting small and staying that way, WooCommerce deserves some serious consideration. It shortcuts your set-up journey and makes running your site easy and affordable. It's especially handy if you've already got some WordPress experience, but if you haven't, you'll still find it a simple, practical, stress-free tool.
At the opposite end of the spectrum, Magento is ideal for businesses looking to scale significantly. It'll give you all the freedom and functionality to tailor your site and optimise your user experience, however big you grow. You'll need some experience in e-commerce setup and management or a dev team who can do it for you. But once it's in place it'll help to propel your growth for a long time to come.
Further reading: