WordPress has fast become the world's leading website platform with 43% of the web using the CMS (as of 2022). Due to its huge popularity, the platform is frequently updated to ensure security, fix bugs, and add new features for its continually growing user base.
Our managed WordPress hosting allows you to grow websites with greater speed and security. In this blog, we discover the importance of updating WordPress versions and how you could benefit from doing so.
Reduce the risk of security breaches
Unfortunately, the huge user base that WordPress has makes it an easy target for Hackers. When WordPress does release a new update they also release a document of the fixes that the update includes.
Meaning that the security breaches that the new update includes are highlighted and therefore gives hackers an idea of how to target the sites that have yet to implement the update.

Shockingly, only 22% of WordPress sites are up to date and for a hacker, this statistic literally translates into a vast amount of websites that they can try to gain access to.
Although the CMS platform itself is extremely susceptible if not kept up to date, a recent study from Sucuri found that almost 10% of the compromised WordPress sites they looked into had an out of date and therefore vulnerable version of RevSlider running on the site emphasising the importance for web site owners to stay on top of updates not only on the application level of their site but also on any plugin updates and patches.
As well as security, keeping your website up to date with the latest WordPress versions also improves your speeds. There's a reason why WordPress is one of the top CMS', and that's because they're running their sites more efficiently with newer updates. By updating to the newest version, your site will have a better user experience (UX), and an improved SEO score.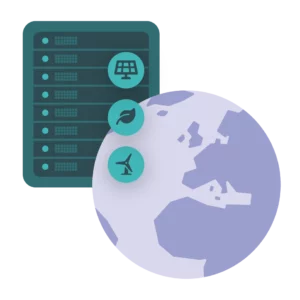 Eco-friendly hosting your clients will love.
Our clients have seen their sites' carbon footprints drop by up to 92% after switching to us.
Start using the latest features
Along with bug fixes and security updates, you'll also get access to any new features that may launch. WordPress are constantly evolving with the needs of their users. Some recent updates in WordPress 5.7, have included:
New dashboard colour schemes
Easier ways to reset passwords in 1 click
Re-usable block improvements
Lazy loading iframes
And more! Have a read through the entire list here. If you're a developer, our WordPress developer hosting is a great option for you and your clients. We also offer dedicated WordPress hosting for agencies to enable you to grow your clients sites quicker, with added security.
Action: Backup your sites before updating WordPress versions
Although we've pushed on the need to update your site as quickly as possible when new patches and updates are released. It's really important to make sure you always back up your site before. If something does go wrong with the update it will ensure that you can restore it to a previous working version while determining a fix.
Given enough time, motivation and resources, hackers will identify and potentially exploit any software vulnerabilities, and although there is never a guarantee your website will never become a victim of malicious hacking, making sure everything is running on the latest versions and consistently updated is a good way of reducing the risks.
Still unsure about WordPress? Our complete guide to WordPress and what it is will help you understand the CMS and how you can use it to your advantage.
Statistic sources:
https://sucuri.net/website-security/website-hacked-report
http://expandedramblings.com/index.php/wordpress-statistics/