As a carbon-neutral website hosting provider, we're always looking for ways to help clients take viable steps towards becoming more sustainable. With the average small business alone contributing 4.4 tonnes of CO2 per year, it's clear that businesses of all sizes must take action to reduce their carbon footprints.
Going green can be daunting, but we're here to help you along your journey. We hosted a webinar with two agency owners who shared their experiences and expertise.
Claire MacDonald and John Aylott joined our Managing Director, Mike Crook, and together they discussed the key sustainability lessons you can learn to help kick off or enhance your agency's green journey and work towards creating a more sustainable future.
In this webinar roundup, we explore the key takeaways:
1. Be clear on your motivations – be passionate
The more authentic and passionate you are, the more likely you are to drive change and succeed. 
2. Have a roadmap – prove authenticity
Find out what your carbon footprint is, set a plan to reduce it, and use the roadmap to prove what you're doing is authentic.
3. Get the team on board – share the responsibility
Bring the team on the journey, appoint sustainability champions, and keep educating them on the impact of climate change.
4. The journey is never over – don't be hard on yourself
Don't feel guilty that you've not eradicated all your carbon emissions or that you're just starting out with a mountain to climb. It's a journey, not a destination. 
Claire and John represent two agencies at different stages of their sustainability journeys, both of which have been driven by their personal desire to make positive changes.
Claire is the co-owner of the digital agency, MacMartin, and they're just starting to make strides towards creating a more sustainable business. Having discovered the shocking extent of the environmental impact of the internet 12 months ago – which emits 50% more carbon than even the aviation industry – Claire is enthusiastic about addressing this in her agency.
John is the managing director of the digital agency, Fourleaf, and they work with clients in the energy, technology, and environment sectors. John's been promoting sustainable practices in his business from day one, almost 20 years ago.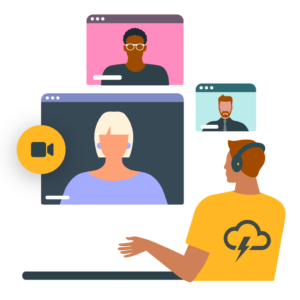 Get started on the road to sustainability.
Watch our webinar and
learn the commercial impact of becoming sustainable and tips for starting your own sustainability journey.
1. Be clear on your motivations - be passionate
Both Claire and John are passionate about promoting sustainable practices and this plays an essential part of implementing them into their agencies.
Claire has been living a sustainable lifestyle for some time by taking actions such as driving an electric car and not eating meat. But she was shocked when she discovered about a year ago that the internet is responsible for more carbon emissions than the aviation industry. 
Claire spoke about how she is driven to educate her team and her clients.
"The statistics about the carbon emissions of the internet are astonishing. Everybody knows that long-haul flights are bad, but nobody really talks about the internet.
"The energy used to display webpages is increasing, and as a marketing agency, we need to take more responsibility to address that. I kick myself that it was only 12 months ago that I discovered this impact."
John believes that he has to back up his words with actions as one of the main decision makers at Fourleaf, and that it comes down to individuals making a positive impact.
"You can't really communicate and educate on sustainable practices if you're not doing that stuff yourself. A lot of it is a personal thing but then there is equally a business need. The business doesn't make decisions – it's the people within the business."
2. Have a roadmap - prove authenticity
Developing a roadmap for your agency is a vital part of planning your green journey. This enables you to find ways of reducing your carbon footprint and monitor progress. There are various changes – both big and small – that can make a real difference, from changing your web hosting provider, to purchasing compostable coffee pods for the office.
John and Claire shared some great tips for drawing up a plan of action:
Work out your motivations for starting the journey 

Get buy-in from your team

Shared responsibility – set up a team of sustainability champions and share the workload

Identify areas to take action

Help shape the behaviour of your staff and clients over time – both in work and out of work
John explained, "We looked at the big ticket items, the ones that have the biggest impact and that could have the biggest saving. Things like your energy provider – just deal with those straight away.
"Then you have the quick wins – disposable coffee cups are banned from our office."
Claire thinks the shift to becoming more sustainable doesn't necessarily have to be more expensive either.
"The services that you use potentially don't have to work out more expensive. We've moved our hosting and, actually, I think we're going to be saving money."
Claire is concerned about the numerous misleading claims she's encountered in the marketing of service providers. She recommends digging deeper into bold claims and making sure you understand exactly how green they are.
"There's a lot of greenwashing around. Google claims that they're the cleanest global cloud in the industry. That, to me, would suggest they use clean energy, renewable energy. They have pledged to use renewable energy by 2030, so they're currently not.
"To rigorously conduct due diligence on your suppliers is really important."
"Around 80% of your emissions are wrapped up in your supply chain. It's really important to deal with that – and be rigorous about it."
John Aylott, Fourleaf
4. The journey is never over - don't be hard on yourself
It's important to remember that, with sustainability, there is no end goal. Any progress made towards making the planet more sustainable is a win for businesses. It's about having a plan and proving you're on the journey to reduce your emissions, not just offset them.
Claire addressed the issue of dealing with accusations of greenwashing, and the possibility of others criticising your claims of becoming an eco-friendly business.
"Nobody's perfect and my philosophy is: if we're doing the best we can, it's better than doing nothing. If you're ticking things off then you're moving in the right direction. There is no end point so don't strive for it."
John doesn't believe it matters what your motivations for going green are.
"Some people do it for an environmental impact, some people do it for commercial gain, some people do it for different reasons. As long as the outcome is the same (a positive one for sustainability), it doesn't matter how you get there.
"You're not going to solve it overnight. You're never going to be done, so just roll with it." 
A full replay of our sustainability webinar is now available on demand. To access it, please sign up.
To learn more about how Nimbus is helping to save the planet via our eco-friendly web hosting services and our green pledge, head over to our website.