Given that 3.7% of the world's carbon emissions are generated by the internet and systems supporting it, there's a lot of positive action that digital businesses could and should take to help tackle climate change.
We recently shared our sustainability quick wins to help your agency start its green journey and devise a plan to reduce its carbon emissions. But what comes next? 
There's always more that can be done on this never-ending crusade. Here, we explore how to implement sustainable practices that'll help your business and workforce make a positive environmental impact.
Step 1: Assess your agency's current sustainability practices.
Hopefully, your agency already has some plans in place that contribute towards operating sustainably, however large or small. 
To fully assess your current list of sustainable practices, conduct your own internal audit. Leave no stone unturned – you might be surprised to discover you're doing better than you thought.
Even something very simple that many people now take for granted – like using recycling bins – counts, so if you're doing that, it's a start.
How do your staff commute to work? If any of them use public transport, an electric car, or a bicycle, they're commuting more sustainability than those who drive a diesel 4×4. 
Don't forget to include how often employees don't commute at all by working from home.
Once your internal audit is complete, you'll have a clearer idea about where your agency can improve and what's achievable.
You may also unearth some ideas about positive practices that might not work for your agency now, but present opportunities for the future. And such opportunities can be incorporated into the next step – your sustainability plan.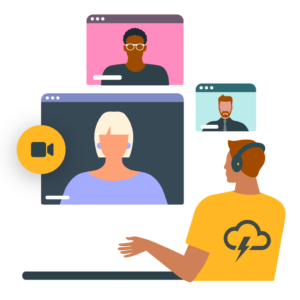 Get started on the road to sustainability.
Watch our webinar and
learn the commercial impact of becoming sustainable and tips for starting your own sustainability journey.
Step 2: Develop a sustainability plan.
Once you've established how you're currently supporting the fight for greener living and identified where you can take action, it's time to put those ideas into a comprehensive sustainability plan.
If you haven't already set up a climate change group, this could be the perfect vehicle for driving change within your agency. You can use such a group to draw up and deliver your plan.
For example, at Nimbus, we have the Nimbus Green Team, which meets monthly. Together this team of sustainability champions generates new ideas and plans the next steps of our green journey. 
In your plan, outline measurable targets, timelines, and responsibilities for each member of your own 'Green Team', 'Climate Council', or whichever suitable group name you decide on. Consider achievable short, medium, and long-term goals.
Creating milestones for each of your targets gives you clear guidance on what you need to work towards – and a satisfying sense of achievement when you hit them.
Step 3: Provide training and resources for your employees.
Educate your workforce and equip them with the resources they need to make positive changes. Once they're following a set of eco-conscious practices in the workplace, these should naturally extend to their home lives, too.
Some staff may already be highly motivated and engaged with green practices, but it's helpful to cater for those at the other end of the scale. Inspire them too, and you're on the path to success. 
Training and education can take various forms, from placing informative signs around the office reminding staff to turn off lights and switches, to pointing them in the direction of webinars, and inviting environmental experts in to deliver insightful presentations.
You can even replicate the latter with perhaps a more accessible option internally. At Nimbus, we run 'Lunch and Learn' sessions, where passionate employees educate the team on the burning issues that are important to them, including climate change.
In return for their attendance, staff receive lunch on us. A little ethical bribery to help the cause is a fruitful tool.
With their newfound knowledge, the team can make positive choices at home, start new conversations with friends and family, share it on social media, and generally keep the sustainability train moving.
If you're seeking a webinar packed with wisdom to help you along, look no further than our very own hour-long session with agency owners who discussed their experiences and expertise:
Getting Started on the Road to Sustainability: A Step-by-Step Guide for Agency Owners.
Step 4: Reduce energy consumption across your business.
Assessing and reducing the energy consumption of your agency has a two-fold benefit. Not only will you help to tackle climate change, but you could save a fortune in overheads too.
In an office environment, you typically rely heavily on lighting, heating, and computers, so perhaps it's wise to begin with these three key areas.
Instilling an energy-saving culture in your workforce should focus the whole team's attention on using all resources efficiently.
One of the simplest steps is to train staff (well, remind them) to turn off lights after use, and only switch them on when they really need to.
Are there sources of natural light in your office that you're not making the most of? Perhaps a re-shuffle of desks and any objects that block out sunlight could reduce your reliance on artificial light.
While training staff to turn off lights after use is a simple step, you could consider cutting them out of this process altogether by investing in motion sensors.
Motion sensors ensure the lights in each office space only come on when people are present. They're a fairly low-cost solution and can reap significant savings over time.
There are other options too, such as switching to more efficient LED light bulbs.
Depending on how modern your office is, you may find that there are plenty of ways to cut your heating bills.
In the colder months, you want to prevent that somewhat expensive warm air from escaping through open doors, windows, and other gaps. Take a look at how you can block draughts and improve insulation.
Did you know that laptops typically use less energy than desktops? Pair them with monitors if you need a bigger screen, and use whatever eco modes they offer.
But the easiest step to drill home to all staff is to turn off and unplug any appliance that's not in use.
Looking for expert advice, tips and hosting know-how?
Step 5: Evaluate your supply chain and how you engage with stakeholders.
As we discovered during our recent sustainability webinar, the supply chain of your agency typically accounts for around 80% of your carbon emissions, so reviewing all your suppliers and service providers is a must.
Start with the most expensive services and work your way down. Energy costs are currently under the microscope, and you may find that switching to a more eco-friendly energy provider isn't necessarily more expensive than your current deal.
But even if it is, the benefits to your green credentials and the knock-on effect this has on your business may outweigh the financial cost.
Consider the impact on your reputation and the positive message you can spread in sales pitches and across your social media channels.
You may attract more business as a result of partnering with more sustainable suppliers and showcasing your commitment to protecting the environment.
One thing to bear in mind is the validity of claims coming from self-proclaimed green service providers. As Claire MacDonald, co-owner of the digital agency, MacMartin, told us during the webinar, it's wise to do some digging.
"There's a lot of greenwashing around. Google claims that they're the cleanest global cloud in the industry. That, to me, would suggest they use clean energy, renewable energy. They have pledged to use renewable energy by 2030, so they're currently not. To rigorously conduct due diligence on your suppliers is really important."
Thankfully, Claire conducted some rigorous due diligence on Nimbus and found us to be a credible website hosting partner.
Website hosting and internet services are an essential part of modern business, and awareness of their overall negative environmental impact is at an all-time high.
As a carbon-neutral hosting provider that uses a data centre powered by 100% renewable energy, we offer you a quick and effortless way to boost your agency's sustainability while providing you with a reliable service backed by a UK-based support team.
To find out more about the positive action we're taking to project the planet, head over to our green pledge webpage.
Implementing sustainable practices in your agency can take a lot of work, but the benefits to the planet and the credibility of your business are surely worth it. 
Once you've developed a plan, broken down your initial milestones into short, medium, and long-term goals – and crucially – obtained buy-in from your staff, there's no limit to what you can achieve as a team.
Just remember that with sustainability, your work is never done. Don't seek an end goal, but rather seek progress.
With each step of progress, you'll develop a greater sense of purpose and achievement. And when you do, you can proudly spread the word and help others follow in your eco-friendly footsteps.
For more expert tips and advice from our knowledgeable team of planet-friendly web-hosting geeks, check out our blog site, or explore our resource hub.