Achieving first-class security depends on your entire infrastructure – from every individual plugin, right up to the servers themselves. That's one reason your choice of web hosting partner is so important. If they aren't ensuring top-level security, chances are your sites will be vulnerable, regardless of how much protection you install yourself.
At Nimbus, we take the security of our hardware seriously. It informs a lot of our processes and updates, and it's one of the reasons why we chose Virtus, a dedicated data centre provider, as the location for our server hardware. Here's how we're working to keep our servers secure – so you can rest assured that your sites are, too.
Security at the data centre
All servers are located within a data centre, which is responsible for housing and running the infrastructure necessary for sites to get online. Keeping servers running well, and consistently, means a key responsibility of data centres is to provide uninterruptible power supplies, network access, electricity and cooling. They're also charged with overseeing the physical security of the servers they contain.
Nimbus's data centre partner, Virtus, has a security protocol split into three separate categories: physical, process and digital. The centre is certified to BS27001, meaning that its processes and procedures are regularly tested and confirmed to be operating at a high-level of security. There's also the small matter of security personnel and CCTV covering the premises 24/7, meaning our servers are protected from any threats that might reside outside of the digital sphere.
In fact, our data centre contains multiple layers of physical security; perimeter fencing, access control, CCTV both internally and externally, a pass code requirement, and both man and vehicle traps.
Websites currently experience an average of 94 attacks every day.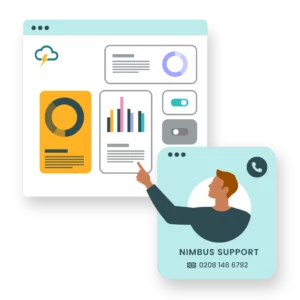 UK hosting expertise you can rely on.
Our UK-based support team are techie experts, and they're ready to help you deliver for your clients.
While the physical aspect of server security is managed by the data centre, there's a lot that we do at Nimbus to ensure that our servers are as secure as possible in terms of software.
1

Firewalls

Firewalls are often the first layer of defence against malicious attacks. They protect servers by providing a barrier to isolate them from the internet, thereby providing security and privacy of data.

Every Nimbus server has a firewall installed as standard. The firewall locks down all public network ports, except those required for serving websites.

Without a firewall protecting these ports, there's a chance of someone being able to access a service you hadn't intended – like using an open kitchen window to access the upstairs bedrooms.

It's an unfortunate truth of the internet that someone is always looking to attack you in some way, so installing a firewall on your server can significantly cut down on the number of vulnerabilities for attackers to exploit.
2

IP allow-listing & SSH

Further limitations to server access can be implemented on a more ad-hoc basis via an IP allow-list.

Maintaining a strong firewall is essential for keeping your server secure and making sure that only the right people have access to it. By default, we block access to all ports on your server except for web traffic and FTP. This ensures that your server is protected from anyone trying to gain access to things like SSH.

Security can be improved even further by enabling our PCI compliance feature which will include FTP in the blocked ports. Allowing you or your developers' IP couldn't be easier through our IP allow listing feature. You can allow an IP for a day, a week or even longer if desired. This gives you visibility and control over who has access and for how long.
3

System updates

You'll undoubtedly have heard it before, but it really can't be overemphasised how integral installing your updates in a timely manner is to the continued security of your sites and servers. When updates aren't regularly installed, security vulnerabilities can be identified and exploited by hackers. Updates are therefore the quickest and easiest way to keep ahead of them.

That's why, at Nimbus, we run nightly security patches on the operating system of your server. This means that any security patches are installed the very same day, keeping your digital environments safer – and keeping the responsibility of manually searching for updates from your shoulders, so you're free to focus on delivering for your clients.
4

Bot-blocking features

Prevention is often the best security tactic – and we know it. That's why we use a built-in bot-blocker to prevent bad traffic from ever hitting your server.

Using a constantly updating list of known malicious IP addresses and bots helps to keep your websites safe, and decreases heavy loads on your server, meaning you're protected against aggressive bots, scrapers and crawlers, as well as downtime.
5

VPS Hosting

VPS, or Virtual Private Servers, are like shared servers' more secure, more effective, siblings. While both methods involve keeping multiple clients and sites on one server, VPS hosting will divide that server into specific, owned segments – and not allow any of those segments to encroach on one another.

Unlike shared hosting, this means that in the event that one site on that server becomes compromised, all of the neighbouring sites and clients remain protected.
A cyberattack occurs every 39 seconds
Even the most secure websites can fall victim to a malicious attack, especially if they are specifically targeted. In the case that your website is compromised, having an up-to-date backup of all of your data can spell the difference between a quick recovery, and a long headache. And, given that your customers trust you to ensure that their businesses remain online and active, backups are more than just a nice-to-have.
That's why we take automatic backups every night, so there's always a copy of the site ready to be restored if needed. We even take the security of those backups even further, with offsite storage that means even in an unpredictable disaster, like a fire, your backups are safe.
Secure servers, secure sites
When you can rely on comprehensive security even at server-level, you can rest assured that your client portfolio is being properly managed and protected. Which, when your clients are relying on you to keep their sites running safely, is a non-negotiable.
When you choose a hosting provider, you place the safety of your servers into their hands. By ensuring that they operate a strict, preventative attitude to their security, you establish your sites within a more secure environment before you even begin to implement your site-level protections. So that means fewer risks, safer sites, and happier clients.
The data centre has a 7-layered approach to security
Top-down security you can rely on
When security is a matter of business success, you need a partner who takes their responsibility to your servers seriously. That's why we've implemented such a comprehensive server security strategy. And if you do encounter an issue, our support team resolves 90% of tickets within 24 hours. Plus, an out-of-hours data centre team can respond to your calls, no matter when you need us. Find out more about our packages here.