Hosting your website and emails in the same place, with the same provider, might seem like a sensible, streamlined thing to do. But the reality's more complicated. Putting all your eggs in one hosting basket can actually make your business more vulnerable – and mean you're not making the most of your provider's capabilities.
Here at Nimbus, we're often asked if we host emails – the short answer is, we don't. We always advocate for our clients to go to the experts when it comes to their online infrastructure. That means using us for web hosting, and getting your email hosting elsewhere.
It's not that email hosting is beyond us as a web-hosting company, it's just that it's not our specialism. We're simply laser focused on bringing you state-of-the-art server infrastructure and security, and we don't want to dilute that by dabbling in email hosting too. Plus, we can't ignore that there are some significant benefits to keeping your emails hosted on a separate server.
Why you shouldn't host emails and websites on the same server
It's perfectly possible for the same server to physically host both your website and your emails – but that doesn't mean it should. That's because, whatever you're hosting, you'll need maximum capacity, security, reliability and flexibility, so your business can run smoothly – and by keeping everything in one place, you put all those things at risk.
1

It stretches your capacity

Hosting your emails on the same server as your website eats up huge amounts of resources and storage, limiting how much you can do and slowing your site down. Once your page loading times start to lengthen, that impacts user experience, puts sales at risk and even harms your SEO ranking – making your site harder to find in the first place.
2

It risks your reliability

When your website and your emails sit on the same server, they're vulnerable to the same risks, at the same time. So if something goes wrong with your site, it's likely to take your emails down too, and vice versa. If you're relying on your site and your emails to run your business – which most of us are – blanket downtime is a disaster you'll want to avoid.
3

It limits your flexibility

Things change. You might need new capabilities that your current hosting provider can't deliver – or you might decide you'll get a better service elsewhere. Keeping your emails and your website hosted separately gives you the freedom and flexibility to move one without the other, so you're not tied down, and you can be more agile and selective about who gets your business.
4

It compromises your security

When you spin up a server, you'll usually be given a single IP address. That's great for hosting your website, but it brings real risks for hosting your emails.

If your site's sending out regular emails through one IP, and even just a few get flagged as spam, you'll soon find they all do. Which means they'll bounce back, land in your customers' junk folders and generally not get where they need to go. That's bad news for your marketing efforts, your customer service levels – and your reputation.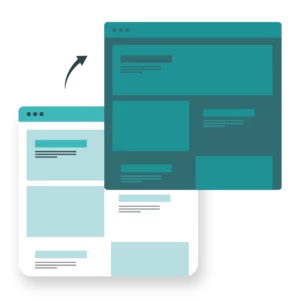 Website migrations, made simple.
Our skilled support team will handle your website migrations – so you can focus on the bigger things.
The best place to host your emails
We always recommend choosing a dedicated email hosting platform that's designed specifically for that one purpose.
We always recommend choosing a dedicated email hosting platform that's designed specifically for that one purpose. It'll have tools to help you manage your emails better, meaning it'll make your life easier. But, more importantly than that, it'll use a multi-IP infrastructure to keep your emails moving, whatever happens. So if one IP gets blocked, hacked or flagged as spam, it'll automatically switch to a new IP to send your messages, making sure they get where you want them to go.
Our two favourites are familiar interfaces to many. They're both simple to set up and straightforward to connect with your domain name and website. First up, Gmail. Used by millions of people as part of Google Workspace, Gmail's been around a long time and it's an exceptional platform that has really raised the bar for email hosting:
It's free, with affordable upgrades for extra storage.
It's secure and it won't bombard you with ads.
It's full of time-saving, game-changing shortcuts.
It's an always-on service, with 99.9% uptime guaranteed.
It works seamlessly with tools like Google Meet and Google Calendar.
Get in touch with us for 10% off G-Suite.
Secondly, there's Outlook. Part of the Microsoft 365 cloud-based service, it's another long-standing email heavyweight that millions of users love – and with good reason:
It's free, with affordable upgrades for extra storage.
It's got enterprise-grade security and data encryption.
It provides you ransomware detection and OneDrive recovery.
It's got a built-in calendar and task manager, and integrates with the rest of Microsoft 365.
How to sync your site and emails
Once you've picked an email provider, you'll need to configure SMTP relay to sync your emails to your website. It enables your site to trigger automatic emails when people place orders, submit forms, reset passwords or subscribe to your newsletter. And it'll do it through the multi-IP infrastructure, to ensure your messages are being delivered. Typically, you'd configure your SMTP relay through your site or application, for example by using a WordPress plug-in. But if you're hosting with Nimbus, it's even simpler.
We've launched a time-saving new feature that lets you enable SMTP relay, straight from your server dashboard. It makes the process faster, makes managing your sites and emails easier, and means you'll have one less plugin to maintain.
Just click on configuration and use the toggles to choose which domains you want to use SMTP relay on. We'll make sure those sites stop sending emails through the local mail server – and start sending them through your chosen email provider, using SMTP relay, instead. Like to find out more about SMTP relay? Read our feature launch blog.