Green hosting is important for a simple, if surprising reason: the internet is the fastest growing carbon polluting industry on the planet. Today, it produces levels of carbon emissions comparable to those of the aviation industry. The difference is that while planes are becoming more fuel efficient, the internet is being bogged down in data. As more of the world goes online, and more websites are built, more hardware is required to support it.
In today's post, we're going to delve into the topic of green web hosting. What does it mean, why does it matter – and what's in it for you?
'Green' hosting is website hosting that's better for the environment. More eco-friendly, more sustainable and with a lower impact than conventional hosting, it aims to reduce the pressure the internet puts on our planet – pressure that's huge, and rising fast.
You'll often find green hosting offered by providers who go out of their way to adopt more sustainable practices. Of course, the moniker of 'green hosting' can apply to a few different strategies for improving the environmental impact of web hosting.
These can include:
Renewable energy credits: Some web hosting companies buy renewable energy credits (RECs). These certificates demonstrate that some portion of the supply from their energy company has been generated from green sources. However, this doesn't necessarily mean that the hosting provider is using green energy themselves.
Sustainable power sources: This strategy involves generating renewable energy and using it directly to power operations. For example, this may include running servers on solar or wind power.
Carbon offset certificates: Sometimes known as Verified Emission Reductions (VERs), these certificates qualify that an equivalent amount of carbon emissions to those generated by the hosting company have been reduced somewhere else.
Energy efficient equipment: Technology is improving all the time, meaning that in many cases, older server hardware is going to be less efficient and less powerful. In real terms, this can mean both greater energy requirements per server, and a need for more servers to handle the work of a few modern ones. Ongoing optimisation can be an important factor in making sure energy usage and carbon emissions are kept in check.
Green culture: Some hosting providers also make eco-awareness part of their working culture, encouraging staff to cycle or use public transport to get to work, or promoting recycling schemes at the office.
When searching for a green hosting provider, it can be worth taking the time to find out what exactly they mean by their definition of 'green' to check that it aligns with your goals. At least one thing is for sure: with the unfolding climate crisis now impossible to ignore, many of us are looking for ways to make more sustainable, responsible choices – and green hosting is a step in the right direction.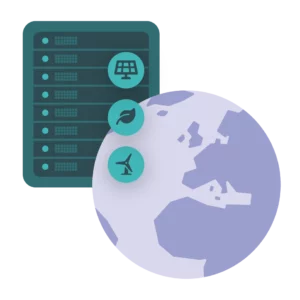 Eco-friendly hosting your clients will love.
Our clients have seen their sites' carbon footprints drop by up to 92% after switching to us.
Why is traditional hosting so bad for the planet?
We live in an increasingly eco-conscious world, and our society is starting to reject well-known environmental hazards such as single-use plastics on a mass scale. For many, the digital realm is seen as the solution to the problems of unnecessary physical waste. However, it's not always intuitively obvious that internet services have their own environmental consequences, with issues such as high power consumption and carbon emissions meaning that there can be a steep cost to the planet.
While most of us know that the aviation industry is responsible for a huge quantity of carbon emissions (2.5% of the global total), it's a little-known yet important fact that the internet and its supporting systems produce even more (3.7%).
At present, the world has over 75 million servers which together contribute to 2% of all greenhouse emissions.
It follows that it should be a major priority for us to power the web with renewable energy. In fact, the internet by itself currently produces more carbon annually than the combined output of Hong Kong, Singapore, The Philippines, Sri Lanka, and Mongolia. On an individual level, every time a user accesses a web page, around 20 milligrams of CO2 are emitted on average – and that's just for a normal website. If it's a large site with video content, we could be talking about as much as 300 milligrams of emissions per second.
While many have advocated for the general public to change their flying habits, or to eschew disposable packaging, it's not really a practical solution to ask everyone to 'use the internet less'. For the majority of us, the web is an intrinsic part of our social and working cultures. Expecting people to individually reduce their internet use would be tantamount to asking them to remove themselves from normal modern life.
It's clear that if real change is going to happen, it needs to be led by hosting providers. After all, a big part of the problem is that web hosting is so energy intensive. Sites are stored on servers in data centres, and they're not small-scale operations. Data centres can have tens of thousands of cabinets, filled with networking devices, servers and backup infrastructure. Thanks to the 'always on' nature of the internet, all of this is running round the clock, requiring a massive amount of energy.
In 2020, the International Energy Agency (IEA) published a report stating that as much as 1% of the entire planet's annual electricity usage is spent keeping massive data centres running around the world.
On top of this, the coronavirus pandemic had caused a major surge in global web traffic, due to an increased need for video conferencing and remote working. To make matters worse, all of the servers in a big data centre generate a huge amount of heat, requiring cooling systems to keep temperatures down and the tech in good working order. It's a colossal undertaking. In fact, it's estimated that 40% of all the energy it takes to power the internet goes into stopping servers from overheating.
There's no getting away from how much energy data centres need, but the real question is how that power is sourced. By switching to green hosting, you can make sure that this energy comes from renewable sources, or at least has a gentler impact on the planet. Of course, all of the above relates only to how much energy we're using for the web right now. As we look to make small changes to sustainability, it's important to acknowledge that the internet (and our global usage of it) continues to grow.
With worldwide internet traffic increasing 15-fold year-on-year, it's clear that provisions must be made to keep the energy requirements of online services in check, and to limit the environmental harm that can be done.
Looking for expert advice, tips and hosting know-how?
What are the benefits of green hosting for my agency?
In light of all the benefits of green hosting, it's not hard to see why it's gaining so much traction. First, and most obviously, it's your chance to do something about climate change – to make a positive, proactive choice to reduce your carbon footprint, switch to renewables, and take better care of the environment.
Once you've done that, even more benefits kick in. All over the world, people are placing more importance on environmental issues, so being able to say you use green hosting can really boost your reputation. It shows you're a thoughtful, responsible business – and gives potential customers a new reason to choose you. It also gives those customers a new story to tell their own clients, friends and networks. Your reputation is reciprocal, and the way it reflects on others can drive even more recommendations and referrals.
Finally, choosing a green hosting provider gives you a strong story to tell in your marketing. From your website to your social feeds, green hosting can show your target audience what is important to you, and attract customers who feel the same way. In fact, being greener than your competitors can in many cases work as a compelling unique selling point (USP). Customers today are more environmentally aware than ever before, and being able to tell them that their projects are hosted in an environmentally responsible fashion might just be the key differentiator that makes them choose you.
While the ecological impact of web hosting may be a less popular talking point than throwaway plastics or the aviation industry, public awareness of other environmental issues is growing by the day – and demand for green hosting will only increase over the coming months and years. More and more customers will want to work with service providers who can be thoughtful about their ecological impact. Green hosting is an easy and tangible way to demonstrate your green credentials, and adopting it now will put you ahead of the curve.
At Nimbus, we've offered 100% green hosting since 2011, all powered by renewables. So, if you'd like to find out more about what it could do for your business or enterprise, just get in touch. You can send us an email, or call us on 0208 146 6797 – we're ready when you are.
Further reading: