For fast-paced digital agencies, business as usual often feels like a rollercoaster ride. Some months are packed with exciting projects, while others can be quiet and uncertain. Finding a way to maintain stable revenue and build strong client relationships is crucial – and this is where the power of retainers comes into play.
But how do you move away from a heavy reliance on project-based work and create a successful retainer strategy?
During our agency retainer workshop, we heard from an agency leader who's been there and done it. Ollie Bolland is the Co-Founder and Chief Technical Officer at J B Cole UK, where he has successfully delivered a profitable retainer strategy.
Keep reading to discover Ollie's essential takeaways that'll breathe new life into your agency strategy and help set you up for a smoother ride of consistency and growth.
Why is monthly recurring revenue (MRR) so important?
Establishing a consistent stream of monthly recurring revenue (MRR) can be a game-changer for agencies.

Why? Well, MRR provides a more predictable revenue stream, allowing agencies to plan and forecast with greater confidence. By securing MRR via retainers, agencies can establish stronger relationships with their clients, fostering trust and loyalty.

Such long-term partnerships often lead to faster, more repeatable sales cycles, increased client satisfaction, and a more efficient workflow. And operating as efficiently as possible should be one of your key aims, helping you boost productivity throughout your agency.

How did J B Cole create an effective retainer strategy?
Productisation.
Ollie diversified J B Cole's offerings by productising them – converting consistent services into products that catered to different client needs, such as strategy, design, development, and website hosting.

Direct Debits.
To streamline their payment process, J B Cole adopted direct debits, introducing software to manage their subscribers. This enables them to collect payments seamlessly and on time, removing the hassle of chasing clients for payments – and provides a more convenient experience for both sides.

Documented processes.
J B Cole outlined each process as a standard operating procedure (SOP) to provide clear guidelines to their team, streamline workflows, and reduce errors. SOPs promote knowledge sharing and continuity by capturing best practices and lessons learned – which is great for helping new starters hit the ground running.
Reliable support partners.
Joining forces with partners you can count on – such as your website hosting provider – forms the backbone of any successful agency. Thankfully, we're a good match for Ollie and his team, sharing sustainability values that J B Cole can promote to their clients while ensuring that our robust and reliable infrastructure keeps everything ticking along smoothly in the background.
Customer service help desk.
Everybody craves good customer service, especially when the unexpected happens. J B Cole implemented a sturdy and responsive help desk system – managed by some advanced software – to ensure their clients' support needs are met. This builds trust and provides streamlined communication, allowing any client problems or concerns to be promptly addressed.
Bold, profitable retainer terms.
One of the crucial factors in their success was the introduction of bold but mutually beneficial retainer terms. Ollie and his team created manageable and profitable recurring terms that emphasise the value and benefits of their retainer plans. By clearly communicating the advantages and outlining the deliverables, they're able to showcase the value they provide to their clients.
Offer effective training.
Recognising the need to ensure staff were fully up to speed on their retainer strategy, Ollie invested in retraining his team. Every member of staff is equipped with the knowledge and skills required to deliver on their retainer agreements and keep clients happy.
Sales documentation.
Developing comprehensive sales documentation increases the likelihood of the successful implementation of retainers, and nurtures long-term satisfaction for both the agency and the client. Craft well-defined proposals, contracts, and service agreements to clearly communicate the key elements of any deal and avoid potentially awkward misunderstandings.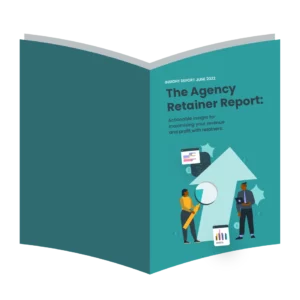 Make the most of your agency's retainers.
Use our insight report to help you reimagine your retainers and raise your profits.
What tools did they use to help them achieve success?
Ollie recommended using a suite of digital tools to enhance the effectiveness and efficiency of your retainers. Here are his favourites:
Zapier – an automation tool that allows end users to integrate the web applications they use and automate workflows
Xero – a technology company that provides cloud-based accounting software for small and medium-sized businesses
Zoho – a suite of cloud-based software applications that cover various functions, including CRM, project management, accounting, HR, email marketing, and more
GoCardless – a fintech company that specialises in recurring payments, Direct Debit processing, and open banking
Chargebee – a subscription billing and revenue management platform
Nimbus – eco-friendly managed web hosting for ambitious UK agencies and freelancers, powered by a data centre run on 100% renewable energy
If the third-party tools and services that make up your offering can provide your clients with a first-class experience, why not factor them into the price of your retainer plan?
This is precisely what J B Cole have done with our web hosting. By costing it into their monthly retainers, they understand the profit margins they make on web hosting from each of their clients.
If you're interested in partnering with a web hosting provider that can help boost your retainers, get in touch.
J B Cole's WordPress management service.
Ollie discussed how WP Procare, his agency's WordPress management service, has built and supported hundreds of WordPress sites for his clients. WP Procare helps marketing departments save time and resources and – as a carbon-neutral service – it helps clients enhance their green credentials.

What lessons did they learn about implementing a retainer strategy?
While retainers offer numerous benefits, you should be aware of several challenges you may need to overcome to get the best out of them. Here's a snapshot of the lessons learnt by J B Cole.
Balance your workload.

Carefully balancing the workload between projects and ongoing support requires strategic planning and resource allocation. Get this balance wrong, and you may slip off the tightrope.
Be clear in your offering.

Transparency is king. Set clear boundaries and deliverables to avoid 'scope creep' – where projects expand beyond their initial plan.
Adapt to client needs.

Meeting your clients' needs – rather than focusing too much on your own – is crucial. So, be adaptable with your retainers if you want to stay ahead of the competition.
Changing existing client relationships.
Change is inevitable, but not always well received. Tread carefully whenever you're shifting existing clients from project-based work to retainers.
Managing time and expectations.
It can be easy to fall into the trap of overpromising and under-delivering – setting realistic expectations is vital to maintaining your team's time and securing client satisfaction.
More clients at lower revenue = new issues.
Typically, running a subscription model means you take on more clients who each pay less per month compared to project-based work. The more plates you spin at once, the tougher the challenge. Ensure complacency doesn't creep in and that your team is prepared to balance the needs of multiple clients at once.
Ollie's top tips at a glance.
Outline clear value-based packages for your products
Create supporting sales documentation
Ensure each product is simple and desirable
Document internal SOPs for each product
Re-train internal teams to deliver on repeat
Implement software to manage repeat actions
Ensure reporting is concise and consistent
The power of retainers shouldn't be overstated when it comes to unlocking success for your agency. By securing monthly recurring revenue, you can establish stable income, build stronger client relationships, and streamline your workflows.
Of course, a strong retainer strategy takes time and effort – there are no magic wands to be waved here – and the challenges that arise need diligent navigation before you can reap the benefits.
Wherever you can, take advantage of time-saving tools and software. Join forces with reliable core service providers to propel your business forward, deliver exceptional service to your clients, and achieve long-term success in a fast-moving agency ecosystem.
Download our Agency Retainer Report to unearth industry-leading insight and expert opinions about creating the optimal agency retainer strategy.