Times are tough for businesses of all stripes, and web development can be particularly prone to cutbacks.
Despite the need for businesses to invest in a new website or upgrade their existing site to stay competitive – and consider the ongoing maintenance required to keep it running – it's not uncommon for business leaders to think that a website more or less runs itself. Sometimes, essential upgrades can be deferred when cost pressures rise.
For agencies looking to secure revenue and continue to grow during this period, web development retainers could offer a solution. They not only provide reliable income that helps to sustain businesses, but can also offer value to clients – whether that's ongoing technical support, rapid response to issues, or ongoing improvements to their web offering.
What is a web development retainer?
The instinct for many agencies is to offer work on a project-by-project basis. Projects are appealing because they are straightforward to price and plan out, scheduling the work as required.
However, they also result in uncertainty for agencies, who may wonder where their next slice of income is coming from. Once a project ends, there needs to be another one lined up – and if a project overruns due to feedback or feature creep, it can disrupt future plans.
A web development retainer helps to avoid these issues, offering added value for both agencies and clients. By signing a web developer retainer contract, both parties are entering into a long-term web development relationship.
This relationship could encompass heavy dev work (e.g. building an entirely new website), but also smaller ongoing work, such as updating website plugins and themes, or incrementally adding features and functionalities.
For a digital or full-service agency, web development services might also form only one part of a retainer. While web development may take up the majority of time in one month – such as when a new template or feature needs to be implemented – it might demand little time in another month.
A retainer gives you the flexibility to flit between tasks as required, without having to meticulously plan and cost every individual project for each client. The same can be true of web development agencies, where you can be kept 'on call' for any issues that arise.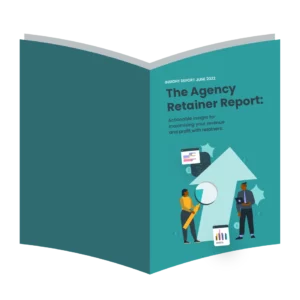 Make the most of your agency's retainers.
Use our insight report to help you reimagine your retainers and raise your profits.
Why you need a web development retainer.
Retainers may not be a natural fit for every agency, but the benefits of a web development retainer are plentiful when delivered properly. It contributes to the quality of your work, the depth of your client relationships, and the reliability of your business's income.
Price transparency.
Few agencies have total confidence in their ability to book projects for a year, giving them relatively low visibility over their revenue. When you can only be truly confident in what you're taking over a two or three-month period, it becomes very difficult to plan for the future and make the kinds of investments (or take the kinds of risks) that drive long-term growth.
With a web developer retainer contract, you have much greater visibility in terms of revenue – and as such, much more certainty over investments. 28% of the agencies we surveyed said that retainers represented more than 50% of their total profits, and 58% said it made up more than 30% of their profits.
Retainers are also much less beholden to estimates than projects – meaning you shouldn't lose money when a portion of retainer work overruns. With a project, you end up over-servicing your client, spending more time (and money) than you anticipated.
Reliable income.
While this is a similar point to price transparency, there are distinct benefits to retainers as a product offering. Given the difficult economic conditions of the present day, both for agencies and clients, the prospect of ongoing work can be more palatable than one big, heavy investment.
Other businesses may be put off from starting projects such as site redesigns at present, as they represent a substantial upfront cost, and can be seen as an unnecessary risk or indulgence when a site appears to work adequately.
A retainer allows for iterative design work and necessary technical support and development time, letting you build relationships through smaller work. The relationship you build up over time can help you to evidence the quality of your work, and put the groundwork in place for larger projects, either as one-offs or within the scope of your retainer.
For integrated agencies that offer supplementary services such as SEO, a web development retainer could be the perfect gateway to a bigger or longer project in future.
Reduced admin time.
Part of the problem with project work is the need to continually re-engage client relationships. Even if a client is satisfied with the work you've done for them in the past, starting a second project can be almost as labour-intensive as the first, from renegotiation to project briefing.
Retainers allow you to keep client relationships open even through relatively fallow periods, with the ability to upgrade their package or start a separate project when needed.
Web development retainer contracts also present an obvious advantage: less pressure for new business. This doesn't mean that business development should cease, but that it can proceed at your own pace, without the perpetual pressure of hunting down new contracts.
This means spending less time and energy pitching, creating briefs, and holding meetings – which can be better spent doing great work for clients you already get on with.
Strong and managed growth.
Increasing the price of retainers is often cited as one of their principal downsides. While this process can be awkward, retainers still provide a means for agencies to manage their growth and increase revenues over the long term.
The ability to plan and strategise around guaranteed income provides a much stronger foundation for growth, affording you the opportunity to invest in new staff, processes, technologies, and product offerings.
Compared to the defined parameters of projects, retainers also offer scalability. Provided the quality of the work is there – and the basis for doing so is sound – the rates for retainers can be increased over time, and the packages themselves can be adjusted.
Our research shows that agency retainers achieve an average profit of 21-30%, while 74% of agencies "frequently" adjust their retainer pricing. This consistent and improvable income stream is music to the ears of investors and owners, allowing you to maximise the potential value of your agency.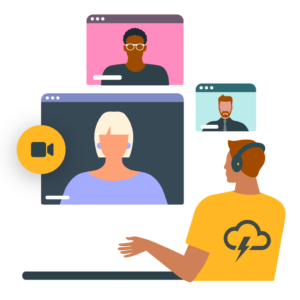 Expert advice that'll supercharge your retainers.
Watch our webinar and
learn how to
get ahead in the market with the help of agency experts.
How to use a web development retainer.
Implementing a web development retainer effectively is similar to launching any other kind of product or service, but the needs it serves – and the flexibility it affords – may be different from what you're used to.
Here are a few tips on how to use a web development retainer to provide a better service to clients, build better relationships, and maximise your revenue.
1

Address your clients' needs.

A strong retainer strategy starts with sensible retainers. The services you offer as part of each retainer need to be services that clients want, and not things that you think they'll want once you explain them.

The client might end up upgrading a package or starting a separate project, but this is contingent on improving your relationship. Your initial offering needs to provide the service they're looking for, and the skills they're aware that they lack.

If you're pitching a project, then the retainer needs to provide the necessary support to ensure its ongoing success. Web hosting, SEO, and site maintenance are all ancillary services that the website may need to succeed, and cement the value of the project in the minds of the client.

Retainers should be geared up to provide this, and clients should know that what they're getting is a full package of support and a strategy to solve ongoing problems – not just a suite of jargon-packed services they don't understand or want.
2

Focus on providing value.

Project pricing isn't always ideal for agencies, but this is usually because they either don't plan projects as well as they should, or they're over-optimistic in their estimates.

From the client's perspective, projects offer certainty in terms of pricing, which they can both plan for and compare with other offers. Retainers are by their nature more flexible, but this doesn't mean you should completely drop the idea of pricing based on deliverables, rather than time.

This goes both ways in terms of offerings. On the one hand, you want to ensure that clients feel they are getting their money's worth, and aren't suspicious that you're spending unnecessary time on something simple.

On the other hand, an important service that's quick to deliver may be worth more than the time you spend on it, both because the client values it, and because of the technical skill it requires. Retainers should find a compromise between both points, pricing and providing services according to how valuable they are to your clients.
3

Augment retainers with projects.

Retainers can lead to projects, but projects also often drive retainers. Just because you want to offer web development retainers, don't feel that you have to cram everything into them.

If you're building a website, the development phase may be better structured as a project, with clear costing and outcomes. A retainer can then provide the ongoing support that the client will need to launch and maintain the site.

By structuring your business to support both web development projects and retainers, you'll benefit from consistent income and a consistent stream of work.

This will relieve the pressure of constantly lining up projects, allowing you to ride out the quiet periods, and find projects that are a good fit for your agency. These will then make great case studies that showcase your agency's value – and open doors to new opportunities for project and retainer work.