The spotlight on environmental sustainability is shining brighter than ever, as consumers and businesses seek brands and suppliers that offer a commitment to minimising their negative impact on the environment.
This growing demand for green products and services, such as green hosting, has inevitably driven a rise in "greenwashing" – where corporations misrepresent their sustainability efforts with dubious marketing campaigns.
In this blog I'll cover some key differences between greenwashing and genuine sustainability, helping you both accurately promote your green credentials and identify sustainable suppliers.
Keep reading to explore how you can stay true to your company's environmental claims and prove that "sustainability" means more than just a marketing buzzword.
What exactly is greenwashing?
When we talk about greenwashing, we're referring to the practice of making false or exaggerated environmental claims.
The term is a play on the words 'whitewashing', which means to cover up or conceal negative information. Therefore, 'greenwashing' refers to the act of overstating how environmentally 'green' something is.
It's a bit like using cheap dye to turn your hair green and claiming it to be your natural colour. Of course, over time, it becomes clear that you're really a brunette.
In business, it can involve the use of vague or ambiguous terms to exaggerate the benefits of a product or service.
Businesses may do this to deliberately mislead consumers into thinking that their practices are more environmentally friendly than they really are, but greenwashing may not always be intentional.
It's plausible for organisations to believe they're being green because their service providers and partners are feeding them fibs. Paying due diligence here is crucial.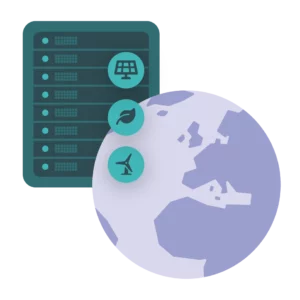 Eco-friendly hosting your clients will love.
Our clients have seen their sites' carbon footprints drop by up to 92% after switching to us.
Why is greenwashing bad for business?
It stands to reason that greenwashing wouldn't exist unless it was considered to be good for business, or at least companies would take more care over their reporting of environmental claims if they thought it might harm their revenue.
But it's worth noting that 71% of Brits don't believe environmental claims by businesses are credible, according to a recent greenwashing research report by Sensu Insight.
More significantly, 59% of surveyed consumers said that they changed their behaviour due to perceived examples of greenwashing by either reducing the amount of money spent with that organisation (23%), boycotting them completely (15%), or switching to an alternative provider with a better eco credential (13%).
Losing consumers' trust – who are now more environmentally discerning than ever – should be a significant deterrent for companies of all sizes. Over time, this hurts the bottom line.
How to prove you're keeping it real.
Quite simply, you need to be transparent about what you're doing. According to the Sensu Insight survey, 86% of Brits would like to see an increase in corporate transparency on environmental matters.
You may feel nervous about making sustainability claims, especially if you've only recently started your green journey. It's common for business leaders to be concerned about accusations of greenwashing, and there have been several high-profile corporate scandals in the news.
But, as we explored during our sustainability webinar, there's no end point to your green journey – as long as you're making a genuine effort to make a positive impact and you're being honest about your progress, it should be warmly welcomed.
For example, at Nimbus, we had already taken a huge leap towards operating more sustainably by installing solar panels on the roof of Nimbus HQ, which generate 80% of our energy. The rest is powered by renewable energy.
It's good, but there's certainly some room for improvement.
The data from our solar panel software has helped us identify that, to take our solar power production to the next level, we needed to install 27 more solar panels and a battery to store excess energy. And that's exactly what we're doing.
We're also ClimatePartner certified. Consider working alongside an independent third party that can assess and verify your green claims.
What about the grey areas?
While there are numerous shining beacons of positive corporate sustainability, such as the sought-after B Corp Certification, there are inevitably a few contentious grey areas to be aware of.
One such hotly debated example is carbon offsetting.
Carbon offsetting involves the action of supporting the removal of harmful CO2 emissions to the same degree as those your business generates. It's a balancing act, whereby a net carbon balance (in versus out) results in a zero.
A well-executed carbon offsetting project can carry genuine advantages, and you can choose from a selection of initiatives that help communities in need, such as ocean-cleaning projects, providing clean drinking water to poor communities, and planting trees.
But critics argue that carbon offsetting is a flawed solution. While it reduces the severity of the problem, it's not significantly tackling it in the same way that cutting carbon emissions at the source can.
Recent studies have suggested that the carbon savings of some programmes are perhaps not as good as they might at first seem – especially with increased instances of wildfires as a result of tree planting projects.
There's no denying that more trees are vital to the reduction of carbon emissions, but there are more effective methods of contributing to carbon savings that go further by carrying significant social benefits, too.
Once again, transparency is vital. Carbon offsetting should still be a positive step, but in many cases, it's a far from perfect solution, so take care not to exaggerate its impact on your marketing.
Final thoughts.
Taking appropriate steps to prove the authenticity of your sustainability credentials can be a challenging path to navigate, but it's a worthwhile investment of your time and effort.
With accusations of greenwashing spreading like wildfire – legitimate or otherwise – it's smart to ensure that your environmental claims are backed up with firm actions and transparent reporting.
Consider obtaining certifications, and joining forces with third-party verifiers.
Set measurable goals and be brutally honest about your sustainability initiatives, even if your marketing doesn't end up being quite as spectacular as you'd hoped.
Remember that small steps towards sustainability are better than no steps at all. The journey towards genuine sustainability is ongoing, and there is no end target.
Authenticity will serve your business and our vulnerable natural environment far better than a greenwashed marketing campaign.
For more expert tips and advice from our knowledgeable team of planet-friendly web-hosting geeks, check out our blog site, or explore our resource hub.
Further reading: