A website isn't much use if nobody is there to read it - and that's why it's a good idea to add an RSS feed to your WordPress installation. RSS solves the problem of how to let readers know that your site has been updated. After all, if they're not checking every day, and they're not following you on social media, then how would they know about your new content?
Related services:
This is where syndication comes in. By using RSS, you can automatically notify any interested readers that a new post has gone live, and that they should check it out. But what exactly is RSS, and how can you add it to your WordPress website? In today's article, we're going to go over how this syndication method works, and how to get it up and running on your own site.
RSS stands for Really Simple Syndication, and as far as digital technologies go, it's a classic. In fact, the current standard version of RSS (version 2.0) was last updated in 2009.
However, it's stood the test of time because it works – and to this day it remains an excellent way to let users know about your site's updates. The last few years have even seen a resurgence of interest in RSS, with the Android version of Chrome rolling out new RSS capabilities in October 2021.
The idea behind RSS is that you can create a "feed" of content, which interested users can subscribe to using an RSS aggregator. All of your updates will then appear in the user's aggregator, along with posts from any other sites they have also subscribed to. It's a convenient way for a user to check for updates from multiple sites in one place, without having to repeatedly visit them all. In a way, it's functionally similar to how you might subscribe to a hashtag on a social media platform: a single location that monitors for posts from multiple sources.
The RSS feed itself is a self-updating XML document, which contains the details of your updates. This might be the content itself (you could publish an entire blog post to RSS, so that the user can read it directly in their RSS viewer), or it might be meta-information about the new content, so that the user can click through to your site to read it.
So how can you get an RSS feed up and running on WordPress?
The good news is that implementation couldn't be simpler, as WordPress comes with built-in RSS feed creation as standard. In order to find your RSS feed, you just need to add /feed/ to the end of your WordPress URL. For example: https://my-wordpress-site.com/feed/
Once located, all you need to do is to link to this URL from somewhere on your site so that RSS users can find it and subscribe to it. A common way to do this is to include a small button or link in the header or footer, alongside your social media links.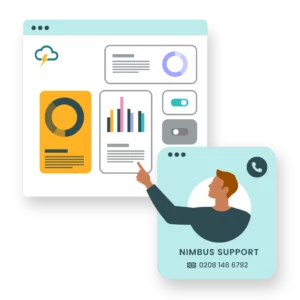 UK hosting expertise you can rely on.
Our UK-based support team are techie experts, and they're ready to help you deliver for your clients.
Adding content from an external feed to WordPress
So, we've seen how to publish your own web content to an RSS feed for others to subscribe to. However, you can also do it the other way around – take content from somebody else's RSS feed, and integrate it into your WordPress site!
First, you'll need the external feed URL you want to use (it may end with a .xml URL extension, but doesn't always). You might need to make sure the feed is in a valid XML format – if your browser doesn't show it as a screen full of XML code, it might not be formatted properly (note: some browsers have very different ways of handling requests to RSS files).
Next, login to your WordPress admin dashboard and navigate to Appearance > Widgets in the menu on the left-hand side.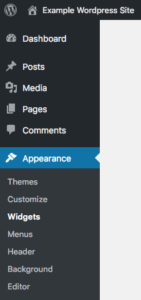 From here, you should find a Widget labelled "RSS".
Drag it to the sidebar or site area you would like to display it in, such as the Footer. The names and locations of these areas will differ depending on the template and version of WordPress you are using.
This will create the following setup box: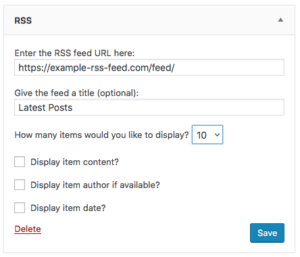 Now you can enter the URL of the RSS feed you want to use and implement some basic settings, such as how many posts to show on your page. And that's really all you need to know about setting up RSS feeds with WordPress! Whether you're looking to syndicate your content out to RSS users, or incorporate an external feed into your design, getting your site set up and ready is Really Super Simple.
Further reading: