When it comes to websites, uptime is everything. The holy grail. The top priority. The be-all-and-end-all. It's so important because it's the amount of time your website – and its hosting server – are live. If you've got great uptime, you're visible to the world, accessible to customers and open for business. If you've got too much downtime, you're in trouble.
Whatever kind of business you're running, if your website's not live, that's effectively shutting down your entire online sales channel. A famous Amazon outage back in 2013 reportedly cost the company $66,240 per minute. Even if you're Jeff Bezos, that's got to hurt.
Now you might not be an e-commerce super giant, but the point is, every second your site's not available, your customers can't use it to buy from you. Even if you're not an e-commerce store, your customers can't find the information they need to get in touch with you, choose you over the competition, and make the purchasing decisions that drive your business. Those same lost seconds are undermining the investment you've made in your site – and the reputation of your brand in the eyes of everyone who notices.
Reliability impacts reputation.
Nobody's perfect. Hiccups happen. But there's only so much downtime customers are prepared to put up with. Consistent issues with your website won't inspire confidence in your business. In fact, they'll dent your brand reputation and credibility. They're also bad news for growth – frustrated customers are a lot less likely to come back, or recommend you.
If your site's down, or takes too long to load, a huge proportion of new visitors will never try again. And even loyal customers won't think twice about trying the competition. In fact, research shows that people expect websites to be up and running 99.95% of the time. Meaning however much time and money you've poured into building your site, you'll only get away with four hours of downtime a year before customer dissatisfaction really starts to bite. Four hours a year!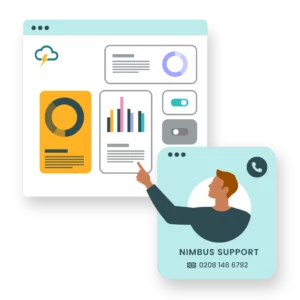 UK hosting expertise you can rely on.
Our UK-based support team are techie experts, and they're ready to help you deliver for your clients.
Search engines spot downtime.
And potential customers aren't the only ones who'll notice when your site goes down. Search engines are quick to spot poorly performing sites and can even penalise you for it by lowering your search rankings – which often take time to recover.
On the flip side, outstanding uptime won't go unnoticed either, and search engines will often rank your site higher because of it – making it easier for new customers to find you and giving your business a valuable boost. So, what can you do to minimise downtime, maximise uptime and protect your business?
Be ready for traffic spikes
Sudden surges of traffic are probably the most common cause of website downtime. Sometimes you can predict them, say for example you've just launched a sale, but sometimes they come out of the blue, so your site needs to be robust, all the time.
Tools like Cloudflare can help you sail through busy times, but the very best way to cope with traffic spikes is choosing a hosting provider that's got your back. An expert team with a whole range of tech tools can make sure your server and site really are ready for anything.
Get your updates done off-peak.
Even the most brilliant sites need updates, tweaks and the odd spot of maintenance from time to time. But test your changes on a staging server first, so you know they're good to go, then plan any necessary downtime so it happens during off-peak hours.
Toughen up your security.
As well as protecting your data, your reputation and your customers, better site security can safeguard your uptime too. Hackers will try a whole range of ways to wreak havoc on sites, from injecting malicious code to overloading servers with a DDoS attack.
The good news is, your hosting provider should be able to help you level-up your security with the latest tools, systems and SSL certificates. Talk to them about what they can offer, and what's most appropriate for the type of site and business you run.
Checking your website every five minutes probably isn't a great use of your time, however important uptime might be. So we always recommend using a website monitoring tool to keep tabs on how your site's performing, while you get on with everything else you've got to do.
It's a great way to get a clear idea of how you're doing and what needs improving, helping you boost your uptime, speed, credibility and competitive edge. Our team love Pingdom's site monitoring tool, but there's a whole raft of options out there to explore.
Great hosting means great uptime.
Uptime is huge, and it's something you can't afford to let slide. So make sure you've got the support you need to protect and power it, from a hosting provider that knows their stuff.
Here at Nimbus, we've got a 99.995% uptime guarantee, and a super-friendly team of hosting experts who love a natter. So if you'd like to talk uptime with us, just drop us a line, raise a ticket or give us a ring on 0208 146 6797. We'd love to hear from you.