As long as your websites are live, it can feel like only a minor concern what kind of hosting is behind them. Surely it doesn't make a huge difference what kind of server environment your sites are part of, since they all get you online? But there are huge differences in the experiences of hosting your sites on a shared server or something more private, like a VPS or dedicated server.
And those differences don't only apply to the kind of management platforms you get access to – they also impact the very basics of website performance; like site speed, security, and the chances of experiencing downtime.
VPS, or Virtual Private Server, hosting refers to a method of hosting that mimics a dedicated server within a shared server environment. What does that mean in practice? Well, while you'll still technically be 'sharing' a server, with VPS hosting your section of that server's resources is protected. So even if one of your neighbours undergoes a traffic spike, they'll never be able to encroach on your resource (CPU) and cause downtime for your clients.
You'll also get more control, as root access means you can customise your server with any configuration style – helping you to spot any potential problems before they affect your sites.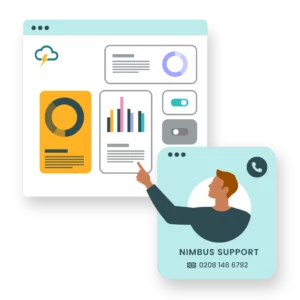 UK hosting expertise you can rely on.
Our UK-based support team are techie experts, and they're ready to help you deliver for your clients.
More control, more confidence, better support
At Nimbus, we only offer VPS or dedicated hosting – no shared hosting options. That's because we're committed to bringing our customers only the very best service, and we just don't believe that's possible in a shared server environment.
With VPS hosting, you can be sure that your website portfolio is protected. Whether that's from problem-neighbours causing IP troubles, or downtime when resources run low. With your own allocated section of the server, you're never at the mercy of anyone else, which means control, and confidence, is firmly in your hands. Explore our packages.
Plus, since we're not interested in a 'pile them high and sell them cheap' approach, we can take the time to get to know our customers. Our UK-based support team answers all calls within 60 seconds, and your Account Manager is always on hand to help support your growth.