Evidence from all over the world shows that we are in a climate emergency. That's why, in the Paris agreement, the UK committed to becoming carbon neutral by 2050 - but, in order to hit that target, businesses need to do their part.
Soon more and more clients will be demanding this from their partners and suppliers. In fact, we've already seen a shift, with some of our newest agency clients coming on board due to our green credentials – and what those credentials could mean for their own customers.
How we're approaching carbon neutral
The journey to becoming carbon neutral can, in reality, be made easy; you simply pay to offset all the carbon you produce, (no matter how much), and you're officially neutral. Whilst perfectly acceptable to some, that isn't how we're approaching it at Nimbus.
Instead, we've been actively reducing our carbon footprint for the last 10 years. In the last 12 months, we've accelerated this progress and put into place our green pledge. With this pledge, we're continuing to drive down our footprint, educate our employees on climate change, get involved locally with eco-friendly initiatives, and become carbon neutral.
I'm pleased to announce that this month we achieved our goal of becoming one of the first carbon neutral hosting companies in the UK.
Mike Crook, Managing Director
Reducing our carbon footprint
If you've browsed our website recently, you may have come across our green hosting page.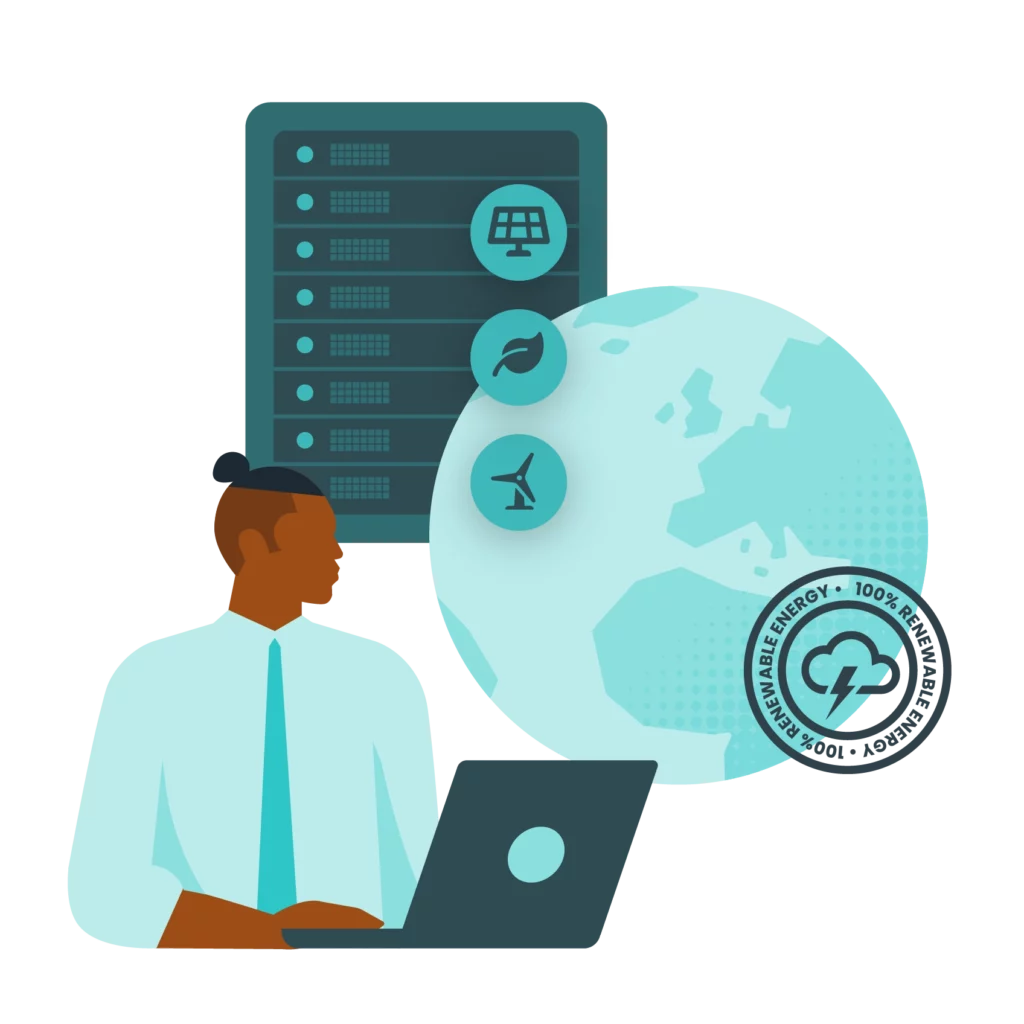 It's designed to speak directly to eco-conscious agencies and freelance developers, and help to educate them about the impact of the internet and its associated technology on the climate.
You can head over to our green hosting page to find out more about the environmental impact of hosting, why green hosting is so important, and the benefits to your agency and its clients.
Since the very beginning, Nimbus has always used a 100% renewable energy data centre to store our servers. During our journey to further reduce our footprint, we have also installed solar panels on the roof of our HQ, installed energy-efficient lighting, swapped diesel cars for a fleet of electric vehicles, and much more.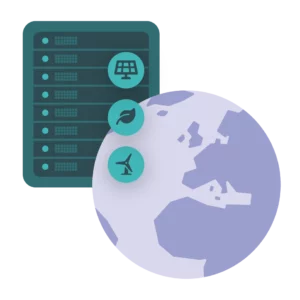 Eco-friendly hosting your clients will love.
Our clients have seen their sites' carbon footprints drop by up to 92% after switching to us.
Visualising our footprint
Having spent the last few months gathering data on our company's carbon emissions – from our consumption of energy to our consumption of pizza – we're now working closely with ClimatePartner, whose software has helped us to better visualise our carbon footprint. We can now see how much carbon we produce and where we can continue to find reductions.
It was encouraging to hear from ClimatePartner how much we had already reduced, and how little we needed to offset. Whilst we have identified areas to reduce our footprint, we've recognised that we can't eradicate it entirely – at least, not yet.
More to offsetting than meets the eye?
As we're not able to completely eradicate all of our emissions, we have to look at offsetting the remainder of them in order to truly achieve carbon neutrality. This gave us the opportunity to invest in worthy courses, and use our commitment to the environment to support not only climate initiatives, but also work towards better conditions for people around the world.
Those who would benefit the most, we learned, would be women and children in developing countries. Our chosen initiatives are helping to give those less fortunate better living conditions, improve their well-being, and prolong their lives.
I'm a big believer in collaboration, hearing other views, and getting buy-in from teams around the business – and with something as critical as climate change, I knew we had to involve the business in choosing our initiatives.
At Nimbus, combating climate change is a passion we all share. With this in mind, I ran a workshop to bring together the team, discuss the initiatives, understand their impact and merits, and ultimately agree on our top three. We're proud to announce our support of the following three initiatives:
Energy-efficient cooking bags in Cameroon
Through this initiative, families are given cooking bags which use about 60% less firewood and save a substantial amount of CO2. The project additionally helps to protect the forests, as less wood is used and the rate of deforestation is reduced.
Clean drinking water in Uganda
Contaminated drinking water is one of the most frequent causes of death in Sub-Saharan Africa, while the intense smoke from boiling dirty water leads to eye and respiratory diseases, especially among women and children.
Through the "Improved Kitchen Regimes" programme, broken boreholes are identified, repaired, and maintained.
This gives people access to clean drinking water without first having to boil it, meaning that the project saves the CO2 emissions that would otherwise result from boiling water, usually on open fires or inefficient stoves.
The additional benefit of reducing the time needed to collect water and gather firewood enables women to access work and education opportunities, which also reduces their exposure to violence as they are not forced to travel alone to isolated locations.
Ocean Protection
Over 8 million tons of plastic waste ends up in the sea every year, especially from developing countries, which often lack the infrastructure for proper waste disposal.
This initiative invests in local projects in partnership with Plastic Bank, where combined projects link guaranteed emission reductions through a certified carbon offset project with a regional commitment to protect our seas.
In summary: they'll invest in renewable energy projects in developing countries,  who themselves reinvest in saving our oceans.
In addition to this, Plastic Bank supports communities through the collection and exchange of plastic to provide local people with other amenities. For example, in Haiti, members can use plastic to pay for their child's school tuition. A zero-tolerance policy on child labour is supported by Plastic Bank's commitment to keeping children in school.
Though we've been climate-conscious for over a decade, we still feel that this is only the start of our journey, and we have more plans to drive our emissions down and find ways to be involved in local initiatives, too.
We're looking at ways to be involved in keeping our oceans and rivers plastic free, helping those less fortunate have access to food and drink through local food banks, and continuing to educate ourselves on climate change and the initiatives we've invested in. You can see all of our initiatives and the carbon we're offsetting on our partner page on ClimatePartner's website.
We're incredibly proud of the work we've done so far – and we're hopeful that it will inspire others to do the same and make a positive change for the planet. After all, it's only by working together can we truly make a positive impact on the climate.
If you don't know where to start, or you need any help along the way, please feel free to reach out. We'd love to hear from you.