Running a creative business can be a rollercoaster, so we've been conducting research with our clients, diving deeper into what's on their minds, and how we can help. Top of the list are two classics: how to increase cashflow, and how to gain more certainty around growth. The good news is, we know a great place to start – getting clients on retainers.
What exactly is a retainer?
It's an agreement between you and your client to work together on an ongoing basis, on multiple projects, to an agreed, regular budget. So, rather than just throwing projects at you on short notice, they'll agree to spend a certain amount of money with you per month, which means you can plan their work in, know what's coming up and keep your cashflow steady.
We love the consistency and confidence retainers bring, but they're not right for every creative-client partnership. They're most useful when there's potential for a steady, predictable, positive relationship, maximising time and cost efficiency for everyone. So, if a client often underestimates how much time they'll need, ties you up in endless amends or just makes your life more complicated, you might be best keeping things ad-hoc with them for now.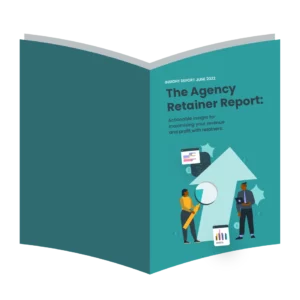 Make the most of your agency's retainers.
Use our insight report to help you reimagine your retainers and raise your profits.
Why are retainers so good for creatives?
1

They take the stress out of scheduling

Whether you're a team of one or 20, if you've got a clear view of how much time your key clients need each month, you'll have a happier, smoother-running studio. You'll be able to prioritise the people who are really committed to working with you, and plan work in to fill any times of year that are typically quiet. Turning nail-biting times into productive, profit-making periods.
2

They help you offer more proactive support

Once you've got that solid grounding, you can be more proactive about the support, and services, you offer to retainer clients. For example, we help lots of agencies offer hosting as part of retainers. With our support, they're easily able to offer their clients website backups, domain renewals, SSL certificates and faster site updates – and charge a regular fee for doing it.

But hosting's just the start. You know your clients, so think creatively about what's going to make their lives easier and build a retainer package that will really appeal to them.
3

They build amazing relationships

This one's a biggie. Retainers are a real statement of commitment, so by setting them up you'll be nurturing relationships with clients who've got faith in you, and are in it for the long haul. That's got to be great for business – safeguarding your workload and saving you a huge amount of time and stress chasing new work, with clients you don't know.
4

They keep your cashflow consistent

Moving clients onto retainers won't just give you incredible visibility of upcoming work – it'll also give you a reliable, consistent income across the year, instead of an unpredictable, uncomfortable one. And that certainty and confidence is an excellent starting point if you're planning to grow.

While some clients prefer to commit a lump sum of budget that you can work off over time, you'll probably find it easier to start a conversation about a smaller, more regular retainer, with monthly payments directly linked to the amount of work (and time) you both agree they'll need.
What's the best way to get started?
1

Get clear on what you want

Moving your clients onto retainers is all about making these partnerships work better for everyone – including you. So think carefully about what you want to achieve. What does your cashflow look like at the moment – and how would you like it to look ideally? How many clients do you want to get onto retainers, how much time might they need, and who might you approach first?
2

Set up a good, better, best structure

Every client's different, but putting together bespoke retainers for each of them is likely to be a complex, time-consuming process, involving a lot more negotiation than you'd like.

A good way to get round this is to create a simple set of three retainer options, then invite your clients to pick the package that feels right for them. It gives you control over what you're happy to offer, presents retainers as a well-established part of your business, and gives your clients the sense that they're being consulted and offered a choice.

Try basing your options around a good, better, best model, starting with a basic retainer package and working up to a more premium, exclusive offering. Each option should give your clients added value over the ad-hoc approach, while still being profitable for you.
3

Pick your current clients' brains

When you're setting up your retainer packages, remember that your existing clients are a really valuable source of information. Have some informal conversations about what they've got planned for the next 12 months and what they'd value in a retainer, then use those insights to build a model that works for you – and will appeal to them.
4

Get new clients on board early

If you're bringing a brand-new client on board and you think they'd be perfect for a retainer, lay out the benefits in your earliest conversations. You could even make it a standard part of working with you, presenting it as best practice and business as usual.
5

Think about added-value services you could include

As we saw earlier, retainers are a great opportunity to be more proactive about what you offer your clients, and open up conversations about better ways of working together. Think about what added extras might they find useful, and consider building them in. Hosting and website maintenance are a great place to start – with huge positives for both you and your clients.

Why? Well, you'll often find clients don't have the time, resources or expertise to really look after the sites you've built for them. Which means lots of ad-hoc calls to you for quick fixes… or a site that just doesn't fulfil its potential. By wrapping hosting and maintenance into your retainers, you can make sure sites perform at their best – and get properly paid for looking after them long term.

Using the good, better, best model, you could offer things like domain and SSL renewals at the basic level, building up to include a full maintenance bundle with services like regular site performance tests, WordPress updates, backup testing, copy updates and speed optimisation.

They're all elements you can easily offer with the support of a good hosting provider. In fact, at Nimbus we help agencies offer maintenance packages all the time, so we're always happy to talk it through, make recommendations and share our latest advice.
6

Automate billing and payments

Once you're billing a client a regular amount every month, you can make things even easier by using the recurring billing tools in Xero or Quickbooks. They'll fire out an invoice on the same day every month, for a fixed amount, so you don't have to worry about remembering.

You can even build in automatic payments by credit card or direct debit, through user-friendly systems like Stripe or GoCardless. They'll pull the agreed monthly payments straight from your clients' accounts, so you don't have to stress about people paying on time or chase up overdue accounts. It all means less hassle, fewer headaches and more time to focus on the good stuff – creative projects, client relationships and growing an even stronger business.