Planning to be the next big thing in online shopping? Looking to set up your dream Magento store? Or are you a website newbie – looking for those tips on getting your products selling? Here's how you can start up your own new Magento eCommerce site and everything you need to know.
For those who don't know Magento, it's time to get up to date – it's the premiere online shopping service, used by over 125,000 businesses, including Samsung and Ford. More Google searches take place for 'Magento' than for 'eCommerce'.
Starting with choosing a name and ending with full security and traffic monitoring for your site, it's not just a quick guide – it's also a bank of links with complete information every step of the way, so if you know where you're going but you're stuck on how to do it, you can dip in and grab all the info you need.
5 set up tasks to tick off your checklist
Have you picked the right hosting provider? (our dedicated managed Magento hosting or Ecommerce hosting is a great place to start)
Have you picked the right theme?
Add any extensions to your site
Evaluate your extensions to ensure you've picked the right ones for your website
Choose a payment pathway that's right for your site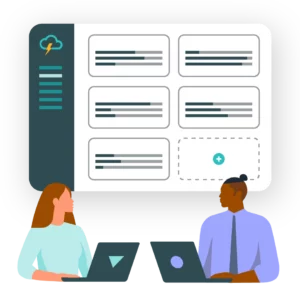 Discover our all-in-one hosting platform.
Our website hosting platform is full of tools to make managing your client portfolio easier than ever.
If you've built your store already, you'll want to check you haven't missed anything – it's a quick reference to make sure you've dotted your 'i's, crossed your 't's, and set up your Google Shopping feeds.
And if you're keen on building a business, but don't know where to start, it'll take you the fastest way from foundations right through to final tweaks.
It's designed for everyone, and while it starts with all the necessary basics, it ranges up to the more complicated and specific options, including SEO and speed optimisation, so even long-standing business owners might pick up some tips and tricks on how to improve their site and improve speed and accessibility.
Further reading: How to Optimise Your Magento Website for Search