When you host with us at Nimbus, we'll put a whole support team behind you. Expert tech geeks, based right here in the UK, they're always on hand to give you fast, friendly, five-star help that maximises server performance, uptime and reliability.
From organising site migrations to troubleshooting MySQL errors, if there's an issue with your sites at server-level, you don't need to worry – our tech team have likely seen it, and solved it, before.
Managed or unmanaged hosting?
Not all hosting packages are equal. At the cheapest end of the scale, unmanaged hosting gets you a server but no support, which means you have to migrate sites, manage servers and fix problems yourself. The time commitment and level of expertise required mean unmanaged hosting is only really an option for the very tech savvy and budget conscious.
But pay a little more, and you get a whole lot more. With managed hosting you don't just get a server, you get a support team who'll maintain the hardware and make your life easier, every day. Plus, the peace of mind that when something goes wrong, there's someone at your side to help fix the problem. It's great for busy agencies and freelancers, and it's what we do here at Nimbus.
Expert tech geeks, based right here in the UK, they're always on hand to give you fast, friendly, five-star help that maximises server performance, uptime and reliability.
What support does the Nimbus support team provide?
At Nimbus, we look after your entire server environment, up to and including the server operating system – in our case, Ubuntu. We'll fully manage the servers you host with us: maintaining their hardware, optimising their performance, applying updates, making extra-secure offsite backups and giving you a reassuring 99.995% uptime, guaranteed. We also make sure your server security is second to none, by applying firewall rules, providing security patches, supplying SSL certificates and making sure our own systems are rock solid, so you can be confident that yours are too.
Our support team takes care of your networks, provides NGINX and Apache servers, and looks after your domains and DNS, so you'll always know when you need to renew – and what you need to do. Last but definitely not least, whenever you need advice, troubleshooting or just a tech expert to talk things through with, we'll be right here, ready to help. Which means you're free to focus on the things you do best – like being a complete superhero for your clients.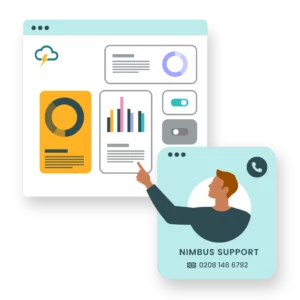 UK hosting expertise you can rely on.
Our UK-based support team are techie experts, and they're ready to help you deliver for your clients.
With our support behind you, you're empowered to take control of your client portfolio. We won't get involved in the sites you put on your server – we leave those in the expert hands of your creative team – but we do give you the powerful, practical tools you need to do great things with them, without any server-based stress.
That includes access to our flexible, time-saving hosting platform – complete with intuitive control panel and a whole range of options you can control at the flick of a toggle, helping you run your sites and servers really easily, whether you're a dev or an account manager. And since we're constantly releasing new features designed to make life easier for agencies and freelancers, you can go forth with the confidence that you're fully supported – now, and in the future.
Like to talk to our friendly, expert, UK-based support team? They're ready when you are. Just raise a ticket, send an email or give them a call on 0208 146 6792. They'll be happy to help.