Employee commuting by car is typically one of the largest contributors to a company's carbon footprint – our carbon emissions audit told us that 68% of Nimbus's total carbon emissions are generated in this way.
Whatever the size of your business, you may find that one of the most effective methods of seriously denting your carbon footprint is to help your staff ditch their petrol and diesel cars by offering them a carefully implemented electric vehicle (EV) scheme.
But how do you do it? Is there anything you need to be wary of? I'll answer those questions, and more, in this blog. Read on to discover what we've learnt along our EV scheme journey, as there are some common pitfalls you need to look out for.
In this blog, I'll cover:
1. Environmental benefits
2. How to choose a broker
3. How does salary sacrifice work
4. How affordable is an EV scheme for your staff?
5. Charging points – your options
6. Combatting range anxiety
7. Final thoughts
8. EV scheme launch checklist
1. Environmental benefits.
Let's start by looking at the environmental benefits of driving an EV. According to government data, 52% of the UK's transport emissions come from cars.

The government's commitment to phasing out the sale of new petrol and diesel cars by 2030 is a statement of intent on the future of EVs and demonstrates their importance in the overall strategy to reduce global emissions.
EVs can significantly improve local air quality and reduce usage emissions. It's worth remembering, however, that EVs are not net-zero when considering the whole life cycle of a vehicle and all of its parts. There is also particulate matter emitted on roads and streets.
In May 2019, the Committee for Climate Change (CCC) suggested that all new vehicles should be propelled by electricity by 2035, to achieve the UK's net zero target. 
And from a business perspective, an EV scheme can propel your green agenda to impressive heights – with the help of the right broker – while boosting your efforts to attract and retain staff.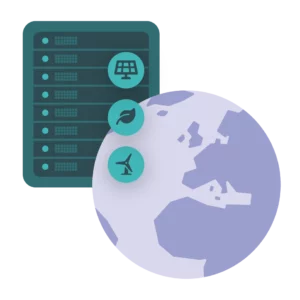 Eco-friendly hosting your clients will love.
Our clients have seen their sites' carbon footprints drop by up to 92% after switching to us.
2. How to choose a broker.
The boom of EV scheme brokers is no surprise, but with so much choice, it can be tricky to find the right broker for your business.
Most brokers work with various car leasing companies to find and offer customers a range of lease deals for each model.
It's worth bearing in mind that some brokers require a minimum number of employees for the scheme, so check this early on in your communications to avoid wasting time with an incompatible broker.
There are other practicalities to iron out, such as completing credit checks and considering early termination charges, and other leasing terms. I'd suggest aiming for a single point of contact on both sides to streamline communications and avoid confusion.
Thanks to a tricky experience with our previous broker, we know that being passed around multiple team members can add a lot of admin time and frustration to the whole process when you're trying to obtain advice.
And after some thorough investigative work, our finance team unearthed and resolved some problems with ambiguous costs, so beware of misleading claims and hidden surprises.
But now, we have a more co-operative partnership with The Electric Car Scheme. Their website contains lots of useful advice and information, taking either employers or employees through the system, explaining how it works, and calculating costs and savings. And if we have any queries, our primary contact is on hand to help.
3. How does salary sacrifice work?
When it comes to car leasing, salary sacrifice schemes should offer both employers and employees significant benefits.
Salary sacrifice provides an incentivised tax benefit to staff by allowing them to pay for the lease of the car via their gross monthly salary – before tax deductions – saving staff between 30% and 60% on the lease, according to The Electric Car Scheme.
As an employer, you lease vehicles to your staff, in the form of an employee benefit. You recover the cost through a salary sacrifice scheme.
So, what's it worth to you as an employer? If you offer this benefit, you can boost your chances of attracting or retaining staff. Owning and maintaining a car is a huge financial sacrifice for most people, so a favourable EV scheme could be a significant draw to your business.
And on top of that, this benefit shouldn't cost your business a penny. Once the initial research is done, the broker should be able to handle most of the admin, such as insurance claims, and work directly with employees once they've signed up.
The government offers helpful tax relief on EV schemes as part of its commitment to tackling climate change and creating a more sustainable future.
4. How affordable is an EV scheme for your staff?
Most brokers should offer you a simple and intuitive scheme calculator tool on their website. This enables employees to choose their desired car and calculate costs.
Employees need to add their salary – and various other requirements – to the comparison tool to help calculate a suitable vehicle for their needs.
As a financial safeguarding feature, the comparison tool on the The Electric Car Scheme will only return affordable cars and terms, based on the salary specified.
It's vital for all parties that staff are only signed up for a scheme that's likely to avoid a stressful financial situation. Of course, there are a lot of variables at play with personal financial situations, but this kind of calculator is incredibly useful for guidance.
Bear in mind that the length of the lease agreement affects its affordability. Leases may be offered in 2, 3, 4, or 5-year terms. The longer you sign up for, the cheaper the monthly payments should be.
Scheme members should take some time to calculate the cost comparison of using their petrol or diesel vehicle versus using an EV. At Nimbus, our EV charging points are available for staff to charge their EVs for free, on a rotational basis, using solar energy we've generated via solar panels on the roof of Nimbus HQ.
Aside from using free charging points, charging EVs at home is typically the most cost-effective method for EV owners. But even if they use a paid-for public charging point, the cost to fully charge their EV should be less than the price of a full tank of fuel.
Some detailed number-crunching is well worth the effort to ensure the financial viability of the scheme has been carefully considered. Consumer advice experts, Which?, offer a detailed guide on typical cost-per-mile comparisons between EVs and fuel-powered vehicles.
My top tip for staff who want the best value from their EV scheme – take delivery of your vehicle at the start of the first month's lease. Monthly charges tend not to work on a pro-rata basis, so you're still likely to pay for a full month even if you only use the car for the final week of your first month.
5. Charging points – your options.
Having charging points at your workplace provides staff (and visitors) with a handy option for charging their EVs while they're in the office.
Consider the type of chargers you'll need – a bit like mobile phones, some cars aren't compatible with all charger types.
The government offers grants for businesses to help with the cost of installing EV charging points, depending on eligibility criteria. A charging point typically costs around £1000–£1,500 to buy and install.
The Workplace Charging Scheme (WCS) is a voucher-based scheme that provides a grant to help with the cost of the purchase and installation of EV charge points, capped at a maximum of £350 per socket, totalling up to 40 sockets across all sites per applicant.
But if you're unable to install charging points at your premises, you should check that there are some available to use nearby so your staff are confident that they can keep their cars adequately charged to get to and from work and daily meetings, if required.
Some supermarkets, petrol stations, and other public charging points provide either free or cost-effective charging options, with drivers able to pay for the electricity and monitor usage and costs via a smartphone app, such as Pod Point.
Zapmap provide a website and app with an interactive map for over 95% of the available charging points in the UK. It features useful filters for plug types, free or paid chargers, and more.
Usually, the faster the charging speed in kilowatt hours (kWh), the more it will cost. For example, at Tesco, EV drivers typically pay 44p per kWh for the slower-charging 7kW connections. For 22kW, the price rises to 49p, and for 50kW rapid charges, the price is 62p. At the time of writing, Sainsbury's chargers are free to use, so keep that in mind.
So, if you own a typical family EV – such as a Kia e-Nero – with a range of approximately 250 miles and a 64kWh battery capacity, and wanted to charge it from 0-100%, it would cost you around £28 at the slowest speed, and around £40 for the fastest.
That's compared to around £20 to charge it at home on a standard tariff of 30p per kWh, or just £8 at the off-peak rate of 12p per kWh.
Now, this is useful for comparison, but in reality, it's advisable to keep your EV battery topped up, rather than risk running it close to empty and then giving it a full charge. And supermarkets offer a convenient option for combining shopping with topping up an EV – it's a multi-tasking masterstroke.
Also, when using a rapid charger, it's more efficient to charge your EV battery when it's at around 20–80%. To avoid potential damage to the battery while using a rapid charger outside of this range, charging usually slows down a little.
In short: public charging points tend to be great for giving your employees' EVs a quick boost, but they're not as convenient or cost-effective as leaving their cars to charge in the office car park, or at home.
To find out more about the range and charging costs of EVs available in the UK, take a look at this comprehensive guide by Pod Point.
6. Combatting range anxiety.
The dreaded range anxiety is the fear of a car battery running flat. It's, understandably, a common feeling among new or prospective EV drivers, particularly those who commit to a lot of driving throughout the week.
It's worth helping employees learn about the range capabilities of their desired EV models and the availability of charging infrastructure in your area.
For example, our Sales Manager, Olly, drives a Tesla with a range of about 300 miles on a full charge – better than his old diesel car on a full tank of petrol, and certainly cheaper to run. His recent drive to Paris cost around £30 in electricity compared to around £150 of diesel if he travelled by car.
Staff should also take advantage of the numerous trip-planning tools available as they get used to using an EV in their first couple of months.
As mentioned, the Nimbus team are lucky enough to have free-to-use solar-powered EV charging points at our HQ, which currently meet the needs of all our EV drivers.
The rotation system coordinated via an EV scheme Slack channel has helped us use the chargers strategically and avoid any forecourt fisticuffs (so far…).
Staff can usually complete their weekly commutes and weekend trips without needing to find alternative charging points too often, but it's rarely much of a hassle when they do.
There's no denying that company EV schemes can help to combat the climate crisis while providing an affordable transport option for working people, particularly with the government promoting EV use and phasing out the production and use of petrol and diesel vehicles by 2030.
There's a lot to consider when implementing an EV scheme, but conducting research and due diligence to find the right broker for the needs of your staff will help them avoid any ambiguous charges or nasty surprises.
The right EV scheme will provide your current and prospective employees with an attractive benefit, and help you cut your carbon footprint, setting your business and the environment up for a greener future.
8. EV scheme launch checklist.
Here's a handy checklist of steps you can take to get your company's EV scheme up and running:
1. Conduct a carbon emissions audit via a third-party expert
2. Check if implementing an EV scheme is viable for your organisation
3. Do you have or can you implement the necessary charging infrastructure on your premises?
4. Check alternative EV charging options in your local area
5. Gauge interest from your staff
6. Research EV scheme brokers to find the right option for your needs
7. Conduct due diligence on the leasing terms and conditions
8. Ensure streamlined communication with your broker, including a primary point of contact
9. Educate staff on the environmental, financial, and practical benefits of your scheme
10. Produce clear company policies for your EV scheme
11. Implement a system to manage on-site charging sessions
Great for the planet, and your clients.
The internet's a carbon-emitting beast. It produces over a billion tonnes of CO2 every year – and every webpage contributes to that. That's why our hosting runs on 100% renewable energy, helping to save 45 million tonnes of CO2 annually.