Client management is a key skill for any agency owner. In fact, customer relationship management is perhaps the key skill. Here's why: if something goes wrong, or you hit a roadblock, it's the relationship you have fostered with your clients which will help you to navigate the tricky times.
Of course, there are more reasons than just damage-control to work on your client management skills, too. Feeling confident in your client relationships can actually have a positive effect on your overall business. After all, the more prepared you feel, the more settled you'll be when approaching your clients – and the better you'll be able to manage their nerves, expectations, and requests.
In this way, maintaining strong client relationships can benefit both you and your clients; giving them confidence, helping to retain them, and proving your agency's ROI.
How to manage your clients: Top ten tips for success 
With good customer relationship management, you can more effectively retain your customers, and keep your brand reputation high. 
1

Set out a clear SLA

Your Service Level Agreement, or SLA, will set the basis of your ongoing relationship. So it's important to get it right.

A good SLA will contain:
A clear statement of objectives
A well-defined scope
Actionable performance metrics (KPIs)
Outlined agency responsibilities
Outlined customer responsibilities
A timeline for SLA reviews and updates
With this in place, you'll establish a baseline for your partnership, which means that – if you encounter any issues or disagreements – you can refer back to your initial discussions to help solve and mitigate the problem.
Plus, with KPIs firmly established and agreed, it's a great reference point through which to prove the ROI of your working relationship.
2

Keep clients involved

As the expert, and with an exciting new campaign to work on, it can be tempting to take your project and run with it. But if your client feels out-of-the-loop, it can create future problems when you do need to be in contact – for example when you need to get a quick response to a query.

Keeping your clients involved in projects from the outset can also help to identify and iron out any potential issues early-on, which means a smoother process, less wasted time, and happier stakeholders.
3

Act on client feedback

It's useful to have a formal touchpoint with your clients to establish their feelings around the project work you've completed so far. Creating a formal, structured way of sharing and collecting this feedback can circumvent any potential muddying of the waters, too.

From there, it's being proactive in your response to feedback that will show clients that you're listening, and that you value your relationship with them.

It's worth collecting feedback like this over time – not only when projects are completed, but also during the process so that you can get feedback on your ways of working, your communication, and make sure that your clients are happy with the ways you're working together.
4

Be transparent

Of course, in an ideal world, you won't encounter any issues as you work on your client projects. But in reality, mistakes happen. Make sure you accept responsibility for your mistakes and keep communication with your customers open and honest. If you decide to hide any mistakes or roadblocks, you simply risk creating future problems for yourself – get found out, and you'll lose the trust of your clients.

However, by owning-up to any issues as you go along you'll earn their respect, and you'll buy yourself the necessary time and leeway to solve the problem effectively.
5

Keep on top of your project management

Project management – that is, the way you lead your team towards meeting all project goals within the given time constraints – is not only important to your client relationships, but also the success of your business as a whole.

It's very easy for one missed deadline to cause a domino effect of delays and pressure on your other ongoing projects. That's exactly why project management is such a key skill for any freelancing dev or agency owner. Establishing a clear view of your ongoing projects, retainers and clients can ensure that you're able to reserve the resources needed to deliver to a high standard.
6

Consider investing in a CRM system

If project visibility is a key roadblock within your organisation, a Customer relationship management (CRM) system could be the answer. CRM systems make it easy to see all the data on individual clients in one place.

In one survey, 64% of respondents declared that they believe using a CRM system has had a positive effect on their relationship management. Perhaps that's because, with data from multiple sources, such as: telephone, email, social media and marketing materials, a good CRM system helps businesses to better understand their audience's needs, and then cater to them.
7

Share your expertise

Any value-added services you can give your clients will be welcome, and they'll reiterate the benefit of your partnership, too.

Consider offering ad-hoc insight to your list of deliverables. Things like blog posts, thought-leadership pieces and webinar sessions can all help clients to understand the value of your work – and your expertise could help them to progress their own businesses, too.

Ultimately, it's true that the happier your customers are, the more successful they are, the better your working relationship will be.
8

Communicate via their preferred channels

The method by which you speak to your customers is just as important as the frequency you reach out to them.

In order to integrate as seamlessly as possible into their business set-up, find out which channels they prefer and consider adding them into your workflow. Whether that's Slack, Whatsapp, or a classic email chain.

The least amount of disruption your relationship causes, the more successful it will be.

This is particularly relevant to those clients who are in different timezones, where the time that you're reaching out is another important consideration.

The bottom line is simply: the easier you make it for your clients to talk to you, the more they'll want to. And that could spell the beginning of a very productive partnership for you both.
9

Assign one employee to be the in-house 'owner'

Whether your agency is large enough to require a client manager or not, it's important to assign someone within the business who can advocate for the client's interests during internal meetings and discussions.

This method ensures that no one project becomes prioritised at the detriment of others, and that no projects fall by the wayside during busy periods, jeopardising client relationships.
10

Prioritise customer experience

Above all, it's vital to put your customer's experience at the heart of your organisation. With the right planning, there's no reason for this to come at the detriment of your own employee experience. By better organising your customer relationships, you can reduce the load on individual employees and keep everyone involved happy – clients and colleagues alike.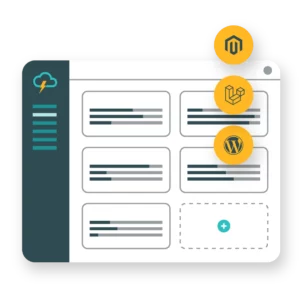 One hosting platform for your agency.
Our platform was designed with your needs in mind, which means it's easy to use, and time-saving too.
Better relationships, better service, happier clients
In short, the happier your clients are, the better your business is. A strong client relationship means less friction, better communication, and less pressure on your team – which ultimately means a higher quality of produced work.
Good customer relationships are the key driver behind sales, so if you're aiming to grow your organisation, you should first ensure that your client management strategy is well-established.