Studio full of web projects? Always good news. Saving them all on one server? Not so good. Here's why. The more sites you store on your servers, the more you're ramping up the risk of something going wrong. Sites slow down, performance takes a hit and the threat of downtime increases. Here's our quick guide to reducing risk and giving yourself a safer, stronger server set-up.
1. Watch how many sites you save on each server
However good their tech, servers can only cope with so much. So if you look after hundreds of sites for lots of clients, storing them all on one server puts each of them at greater risk and just isn't good practice. It overloads the server, limits the resources available to each site, and puts pressure on bandwidth and security.
For your clients, it means sites that don't run as smoothly as they might, with potential compromises on speed and a greater risk of downtime. For you, it means more troubleshooting, more urgent calls from clients and more risk to your reputation. It also means it's much more difficult to make changes to your hosting environment, with an increased likelihood of jobs timing out before they're finished. For example, if you want to update all your plugins at once – which should be a fast, straightforward job – you'll find it's a slower process, eating into more of your team's valuable time.
2. Give complex, high-traffic sites the space they need
A simple brochure site's an entirely different beast to a busy, complex e-commerce site. While one might get a steady stream of visitors performing relatively simple actions, the other's more likely to draw huge, highly variable volumes of traffic, with visitors browsing, buying and interacting in a far more involved way. For fewer headaches, keeping them separate is the way to go.
While it's fine to group several straightforward sites on one server, we always recommend giving your biggest, most complex sites a separate server of their own. That way they won't eat up the bandwidth those smaller sites need, so you can maintain maximum speed and exceptional performance for all your clients, whatever the size of their website.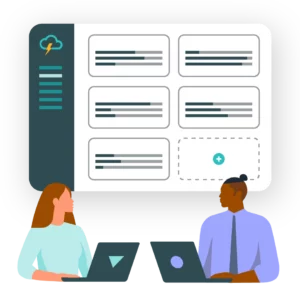 Discover our all-in-one hosting platform.
Our website hosting platform is full of tools to make managing your client portfolio easier than ever.
3. Create a dedicated development space
We always recommend giving your team a dedicated development environment that's separate to your live hosting. It dramatically reduces the risk of issues caused by testing and deploying new features, giving your dev team a safer, self-contained space to experiment, create great new work and thoroughly test it, before taking it live.
4. Set up a staging server
There's also massive value in having a specific server for all your staging sites. It's a different thing to your dev space because it's not about trying and testing, it's about seeing how your latest work's going to look once it's out in the world. An extra level of quality control that gives you – and your clients – even more confidence and peace of mind.
How many times have you picked up problems at the last minute? Your staging area's all about catching those final issues, so that once you launch, the whole site's seamless.
5. Weigh up cost vs reputation
Yes, extra servers create extra costs, but it's worth weighing those costs against the benefits they bring – and the risks they reduce. An extra £30 a month for a new server is a fraction of the cost of losing a regular client if things go wrong. You're investing in protecting, and elevating, your reputation. A more robust hosting set-up is a great reason for existing clients to stay with you – and new clients to choose you.
At the same time, you're helping your team work more efficiently. It's much quicker and easier to fix a problem on a server with fewer sites, so you'll be freeing them to troubleshoot faster, and get back to the creative work they'd much rather be doing.
6. Follow our best-practice model
A good example of an ideal set-up is to have several servers, each running around five websites. Give any especially complex, high-traffic sites a server of their own, and make your team's lives easier by adding dedicated dev and staging servers too. It's a set-up that keeps risk down and keeps your clients' sites safe and secure, in a stress-free, manageable way.
Here at Nimbus, we've made it quick and easy to create the ideal server set-up in our hosting platform. With an intuitive dashboard developed specifically for agencies and freelancers, you can see at a glance which sites you've saved on which server, what resources they're using and what actions you need to take to keep everything optimised, all the time.
Like to find out more about what the Nimbus hosting platform could do for your agency? Just get in touch. Raise a ticket, send us an email, or call us on 0208 146 6797. We're ready when you are.