Companies of all types are struggling in the present economy, but the outlook for agencies can seem particularly stark. Whether you're primarily engaged in web design, SEO, branding, or PR, many of the services offered by agencies can be perceived as expendable by other businesses. This leaves them on the chopping block as cutbacks are made, and clients opt to focus on their own staff and services, rather than strengthening their digital operations.
But this needn't be the case. Agencies aim to create value for their clients, and evidencing this can keep them on board. Doing so means making your agency more efficient, both in terms of what you offer, how you present it, and how you produce it. In this blog, we help you better understand how you can improve agency efficiency and profit in this difficult period – from modifying your retainers and service offerings, to optimising your business structure.
The value of sustainable profitability
The value of increasing your profitability shouldn't need much explaining. Yet there are good methods of increasing profitability, and bad methods. Improving efficiency can often be a byword for making cutbacks, and cutting through 'red tape' that is actually holding the business together. So-called efficiency savings have an increasing reputation for making the customer experience worse – sacrificing long-term client relationships for short-term gains.
Sustainable agency profitability involves making improvements through investment into the business, rather than cutbacks. This is not to say that optimisations can't be made, but that efficiency isn't just about doing things faster or cheaper.
Making your agency more efficient could be a matter of offering different services, different products and plans, or changing the processes, equipment, and software you use. The object is not to make your service unnoticeably worse, but to make it easier to deliver the same level of quality.
This can be achieved in a number of ways.  For  example, consider trialling different ways of working and seek feedback from members of staff. New or adapted services might be offered on an ad-hoc basis, trying out new ideas for willing clients.
Projects could be used as self-contained experiments into new ways of working, with careful management to ensure that standards don't slip, and that normal service resumes if things aren't working out. But what are some of the ways you can improve agency efficiency? Read our expert advice below to find out…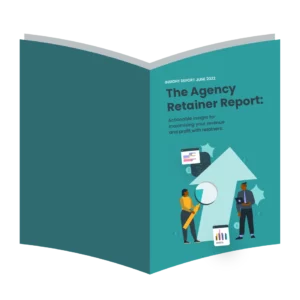 Make the most of your agency's retainers.
Use our insight report to help you reimagine your retainers and raise your profits.
How to improve agency efficiency
Making your agency more efficient can comprise both cost-saving measures and sensible investments. A recession demands that you be more careful about how you spend your money, but not that you don't spend anything at all. 
Here are just a few ideas that should help your agency maximise profitability and thrive during a difficult period, rather than  just survive.
Offering (and optimising) retainers
Project work is often tempting because of how it allows agencies to block time and plan their work more effectively. This is particularly true due to how some agencies opt to silo work, with different groups working on different projects that match their specialities. Retainers often involve more cross-disciplinary work, which can be difficult to organise at best, and chaotic at worst. As such, they may be saved for smaller clients that need fairly minimal maintenance.
However, evidence suggests that retainers not only result in a more reliable income for agencies, but are also more profitable overall. Our own study of over 200 agencies showed that those with a higher-than-average percentage of retainers from new business (31-60%) reported higher profit margins. Hourly rates were higher across the board, with retainer prices of between 100-200% above the average, and the margin of web builds being 25-32% higher than the average.
As well as offering stable and substantial income, retainers provide stability and certainty on an administrative and client level. Less planning time is required for scheduling work and creating new proposals, and communication with clients is easier, with no need to re-establish a working relationship in the future. All of this reduces stress within your agency, and gives you the financial stability to make long-term investments and business decisions.
If you already offer retainers as standard practice, now may be the time to optimise them. For instance, considering the ways in which you can expand the portfolio of services you offer as part of retainers – or how you can restructure your retainer offerings – can transform retainers from a boring but reliable source of income into an exciting growth opportunity. This might include adding services such as…
Web hosting and management
Horror stories about web design, hosting, and management firms are unfortunately common online. With little experience or knowledge to rely on, many businesses find themselves fleeced by unethical developers or even agencies, providing poor-quality websites at inflated costs. An online presence is vital, but it's something that many businesses have bad experiences with, and would rather not have to manage on a day-to-day basis – let alone going through a lengthy and expensive site redesign.
Adding web design, hosting, and/or management to your portfolio can be attractive to these potential clients, and an ideal way to generate additional revenue. Partnering with a reliable web design agency or using your in-house talent can add real value for existing clients, and help you to build a reputation that attracts new ones.
Web hosting and management are a great way to ensure that the quality of the work you've started with a client is maintained, and that the consistency and integrity of their digital brand remains intact.
Our web hosting platform does the heavy lifting for you and amplifies these benefits. Allowing you to manage all of your clients' websites from a single interface, our web hosting platform is powerful, flexible, and seamlessly integrated. By speeding up your site management, you can quickly scale your portfolio, managing everything from WordPress to Laravel to ExpressionEngine sites.
With collaborative tools and the ability to integrate with different apps, it fits seamlessly into any workflow, and provides complete control without sacrificing speed or security.
Looking for expect advice, tips and hosting know-how?
Strengthening project management
We understand that agencies thrive on creativity, and creativity tends to be stifled by over-management. Good project management means finding the right balance, and using a delicate touch to steer people in the right direction. Why not look at your processes for project management, and see if anything can be improved?  This step both removes inefficiencies and harnesses the full creative potential of your teams.
One obvious process to look at is how you organise your files. A centralised repository for your project work should be a given, but without the right processes in place, these can quickly become a nightmare of nested folders and similarly named files. Google Drive, ResourceSpace, and Bynder all provide tools that can allow you to better organise your files – from search operators, to labels and colours, to format management, and in-built editing tools.
Another key element is to set clear boundaries for each project. The scope of a project should be defined at the outset, and there should be no expectation or submission to the idea of going beyond it without being paid extra. The idea of scope/mission creep – or over-delivering – is the achilles heel  of a well-managed project.
Projects inevitably end up overrunning, and often fail to deliver what was promised, losing sight of the initial goal in the pursuit of new ones. Project management is exactly that – managing the project, as opposed to just the people working on it.
Diversifying your digital marketing
One of the reasons website management makes sense as a strategy for agencies is that they often end up doing it anyway, even if it isn't in an official capacity. As experts in all things digital, agencies often have to field queries about web management despite not being a core offering. The same is true of digital marketing – and it makes sense as a strategy for many of the reasons listed above.
Digital marketing is another area where clients have often had bad experiences, paying extortionate amounts for ineffective paid media management, black hat SEO techniques, and off-brand social media posts. Offering these services to clients will fulfil an integral part of their online strategy , and provide another argument for adopting a retainer. Do it well, and you'll help to improve their brand image and visibility, benefiting both parties.
We recommend social media as a good place to start, as agencies tend to have the existing skill sets to manage it. However, it has to be couched as a branding exercise more than a tool for lead generation. Paid media is an area that can provide the biggest and most immediate 'wins', but requires a more unique skill set, while SEO is a long-term project. All of these aspects are valuable to clients, and all of them will help you to build both greater revenue and stronger client relationships.
Efficiency may be perceived as a byword for cutbacks, but we hope we've helped to redefine it with the tips above. Maximising your agency's efficiency and boosting profits can be an opportunity for reflection, self-assessment, and growth, as well as making small optimisations where necessary. The result may be a leaner business, but it should also be a more effective one – giving staff a platform to succeed, and giving clients a better and broader standard of work.
For more expert advice and insight that'll elevate your retainer strategy and maximise your revenue, download our agency retainer report. Go on, it's free.