Eco-consciousness is approaching its peak and driving a transformative shift towards sustainability within the UK agency sector. As a result, B Corp has captured the imagination of agency leaders. Are agency leaders right to pursue B Corp? If not, what are the alternatives?
On 7th September, Mike Crook, MD at Nimbus was joined by renowned Sustainability Expert, Neil Russell-Bates from Hilltop Sustainability to host Beyond B Corp – a unique webinar to explore these questions.

Mike Crook, MD at Nimbus                                                              Neil Russell-Bates, Sustainability Expert at Hilltop
Mike kicked off the webinar with a passionate opening keynote, outlining that not all agencies aspire to become B Corp mainly because of time and resources. Neil followed with the alternatives to B Corp, and how an agency could still prove its credibility without having first achieved a sustainability
Key Highlights
Alternatives to B Corp:

ISO 14001, which is an environmental management system, listing systems and processes within a business and how they're oriented to deal with any environmental issues. Ecovadis will similarly score you across four different pillars like B Corp, including the environment and your ethical procurement.
Certification choice:

Credential selection is vital. It positively affects both an agency's financial performance and its environmental impact.
Key strategic questions for agencies: What are you investing in to become carbon neutral? What are your ambitions beyond carbon neutral? How can you demonstrate sustainability and build credibility?
Storytelling your journey: Capture the imagination of your stakeholders, by sharing stories of your sustainability journey. Highlight what you've done and what you're aiming to do. Share mistakes that you've made and the lessons you have learned to build authenticity.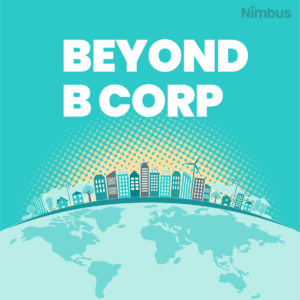 Hear from the experts.
Discover a world Beyond B Corp with Mike and Neil.
The Beyond B Corp Webinar showcased various paths for agencies committed to sustainability.
With guidance and transparency, agencies can effectively navigate their sustainability journey. In addition to certifications and schemes, they can utilise free and available tools to reduce their environmental impact, enhance their financial health, and inspire others to embark on similar journeys.